Check out these Ideas for Fall Fun in Indianapolis!
At The Children's Museum Guild's 59th Annual Haunted House, you'll have the once-in-a-nightmare chance to explore the town where Halloween villains live during their "offseason." The classic villains—mad scientists, witches, zombies, werewolves, and more—are back. And they're just DYING to meet you.! Organized by The Children's Museum Guild, the 59th Annual Haunted House, BOOville, is presented by Old National Bank.
Phone: (317) 334-4000
Address: 3000 North Meridian Street, Indianapolis
Dates: October 10th through 31st
---
Locally Made: Indy's Fall Fest will be held on Saturday, October 21, from noon to 5 pm. ARTSPARK will come alive with art, art activities, food, and more! This event features artwork, wares, and artisanal goods from 50 local and regional artists with one-of-a-kind work. Guests can participate in art activities while enjoying a sampling of local artists and artisans, food trucks, local beer, and a variety of wine for purchase! This event is very family-friendly so bring the whole crew and enjoy a fun-filled fall day! Admission is FREE and open to the public. Activities are available for free and for purchase for all ages. Plus, don't forget to check out our fall classes and Make It Take Its! Registration is open, fall second session starts the week of October 21.
Phone: (317) 255-2464
Address: 820 E. 67th Street, Indianapolis
Dates: Saturday, October 21st noon-5 pm. New second session fall classes start the week of October 21.
---
It's almost time for all things spooky, haunted and Halloween! At the Indiana State Museum and Historic Sites, we have spooktacular events for every interest and scare level this October. In Indianapolis, enjoy a night of spooky and magical fun during Night at the Boo Bash Family Fright Night, or venture through the museum to visit some of the creepiest artifacts in our collection during Twilight Tales: Beyond the Grave (ages 18+) and Strange Encounters (all ages). At our state historic sites located throughout Indiana, experience Ghost Stories Under the October Sky, Twilight Adventures, Owl-oween, plus a whole bunch of Halloween Hullaballoo! Learn more: https://www.indianamuseum.org/spooky-season/
Phone: (317) 232-1637
Address: 650 W. Washington St., Indianapolis & throughout Indiana
Dates: Throughout October
---
Kick off fall with Indiana's favorite tradition – the Headless Horseman festival at Conner Prairie! Enjoy the Trail of Terror maze through the cornfield, take in family fun at the midway, grab sweets from the Apple Store, and of course take the iconic hayride through Conner Prairie's grounds where you'll encounter the Headless Horseman himself! Grab your tickets now – if you dare!
Phone: (317) 776-6000
Address: 13400 Allisonville Rd, Fishers, IN
Dates: October 5th through 29th | Thursdays – Sundays
---
It's our grandest ZooBoo yet, with new friends to meet and oh so many sweets. ZooBoo always delivers for unforgettable family fun. Count on October weather for active animals, colorful foliage, and a whole new season to explore! Candy, Costumes, Animals and Potion – ZooBoo has it, no matter your notion. Presented by Central Indiana Honda Dealers. Buy online and save up to 50% on tickets.
Phone: (317) 630-2001
Address: 1200 West Washington St. Indianapolis
Dates: September 27th through October 31st.
Wednesdays- Sundays only
---
During the month of October, S&H will offer trick-or-treating every Saturday and other fall activities, such as crafts, games, dress up, pumpkin carving, hay rides, site decorating contest and lots more. S&H's Fall Market will be open, where guests can find pumpkins, hay bales, corn stalks, gourds and lots more seasonal items for sale. The last weekend of October (10/27 through 10/29) is Zombie Prom Weekend! Get ready to dress up as a zombie and dance the weekend away. Check out our website and Facebook page. Now Booking.
Phone: (317) 326-3208
Address: 2573 W 100 N., Greenfield, Indiana
Dates: September and October
---
Wright's Gymnastics & NinjaZone
Join us for an "All Things Fall" Fall Break Camp! Located at all Wright's locations.* This camp will be a running, jumping, friend-making, and Fall-loving good time!
Southeast Greenwood: Fall Break Camp – October 9th-13th
Greenwood: Fall Break Camp – October 16th-20th
Noblesville: Fall Break Camp – October 9th-13th
Westfield: Fall Break Camp – October 16th-20th
*Center Grove will be hosted at the main Wright's Gymnastics Academy
Phone: (317) 888-4805
Address: 360 E 186th St, Westfield
---
Pick a pumpkin, take a hayride, explore the corn maze, fire the air cannon, play in the kid's zone, dig for fossils, mine for gems, jump and giggle on the bounce pad, take a spin on the cow train, visit our barnyard friends and enjoy yummy fall treats in our farm store. We can't wait to see you for Piney Acres Farm's 2023 Fall Pumpkin Roundup! Located just minutes from Indianapolis in Hancock County. Open daily September 23-October 30, 2023.
Phone: (317) 326-1700
Address: 1115 E. 1000 N., Fortville
Dates: September 23rd through October 30th
---
Tuttle Orchards offers lots of fall fun! In September enjoy picking your own apples and creating your own cut flower bouquet. In October, visit the pumpkin patch. All fall you can enjoy our Tractor Town Kids Area, Corn Maze, Narrated Wagon Rides (hours vary), apple cider slushies, caramel apples, donuts, and grab some pre-picked apples in the Farm Store. Tuttle's Grill will be serving meals Monday through Saturdays. Think our Apple Cider Bratwurst, Pulled Pork Sandwich with apple butter BBQ, Smoked Chicken Tacos, and MORE! We are CLOSED SUNDAYS. Check our website for all the most current information before visiting!
Phone: (317) 326-2278
Address: 5717 N 300 W, Greenfield
Dates: August 25th through October 28th
---
Enjoy hayrides, scavenger hunt corn mazes, bounce houses, 37' slide, hill slides, miniature golf, pedal carts, huge petting zoo, jump pad, playgrounds, rides, country store full of fall decor, fudge, candles and more. Bluegrass music, pork sandwich meals, concessions, mums, pumpkins everywhere and the largest, colorful gourd selection around! Lots of fun for all ages! Admission includes all activities! Children ages 2 and younger free. Discount for military members, veterans, and anyone aged 65 and older. For more information go to Russell-Farms.com. To see a video of the festival go to Russell Farms Pumpkin Patch Facebook page.
Phone: (317) 773-9078
Address: 12290 E 191st St, Noblesville
Dates: September 30th & October 1st, 7th & 8th, 14th &15th, 21st and 28th
---
The Pumpkin Harvest at Dull's Tree Farm provides fall fun for everyone! Take a hike through the 8-acre corn maze, and then pick your very own pumpkin from our pumpkin patch. Re-energize with some food from the Feed Bunk and wash it down with a refreshing apple cider slushy. But make sure to leave room for a freshly made apple cider donut from the Sugar Shack! Then you will be ready to explore all of our other fun farm activities! With over 45 to choose from, slides, a Ropes Range, trikes, mazes, mini zip line, air cannons, barrel train and more, you will be sure to leave with some good old down-on-the-farm memories that will last for years to come.
Phone: (765) 325-2418
Address: 1765 W Blubaugh Avenue, Thorntown
Dates: September 30th and October 1st, 5th-8th, 12th-15th, 19th-22nd, and 26th-29th
---
Experience the Farm! Corn maze, hayrides, farm animals, pumpkins, the Jump Pad, Straw Bale Mountain, Moo Choo Express rides, play in the corn crib, pumpkin painting, snacks, milkshakes and more!
Facebook: @KelsayFarms
Address: 6848 N 250 E, Whiteland
Dates: September 29th through October 29th
---
Enjoy fall family fun on the farm with seven weekends of Fall Festivals! Featuring a corn maze, hayrides to the u-pick pumpkin patch, apple cannons, barnyard bonanza activity area, music, food, and more! Activities are available EVERY DAY from September 16th through October 31st!
Phone: (317) 745-4876
Address: 2304 E Main St, Danville, IN
Dates: September 16th through October 31st
---
The Nickel Plate Express train, located in Forest Park in Noblesville, offers a variety of themed experiences during the fall season. On October 7 & 8, visitors can embark on a magical journey into the wizarding world on the Wizard Express. Passengers will enjoy a variety of characters on board and themed treats during their journey. For those looking to enjoy the beauty of fall foliage, the Fall Foliage Express runs on October 14, 15 & 22. Passengers can relax in a historic train car while admiring the scenic views. On October 28 & 29, the Trick-or-Treat on the Rails event invites guests of all ages to dress in their favorite Halloween costumes and enjoy a 65-minute adventure.
Phone: (317) 674-3840
Address: 825 Forest Park Drive, Noblesville
Dates: Every Weekend in October
---
The South Shore of Lake Michigan is only a short drive from Indy. Plan a day at the Indiana Dunes National Park where you can explore miles of hiking and biking trails, camp under the stars and climb massive sand dunes. Visit local orchards or u-pick farms to hunt for the perfect pumpkin, pick a bushel of apples, stroll through a corn maze while sipping delicious cider, and enjoy many other harvest-time activities. You won't believe you're still in Indiana! Fall in love with the South Shore, and start planning your fall getaway now at alongthesouthshore.com.
Phone: (219) 989-7979
Address: 7770 Corinne Drive, Hammond
Dates: September through November
---
Hay rides to one of our many pumpkin patches are a tradition at our Raymond street location, where we also feature Tyranny our pumpkin chomping dinosaur, farm & exotic animals, pony rides, corn maze, straw mountain, a spinning pumpkin, train ride, human hamster wheel, mega mountain slide, caramel apples, fresh baked goods and Apple Cider Slushies! Come check out one of our live bands on Saturday and Sunday too! Also selling beautiful fall décor like funky pumpkins, gourds, straw bales and corn stalks. All of this and more fall family fun!
Phone: (317) 356-6995
Raymond St. Location: 7010 E. Raymond St, Indianapolis
Greenwood Location: 1100 IN-37, Greenwood
Dates: September and October
---
Fall is a great time to visit the Honey Farm where we are busy harvesting, extracting and bottling this year's honey crop. Visitors can take a guided tour of the Honey House, bottle their own honey bear, roll their own Beeswax candle, or even visit a live beehive with a beekeeper. (Reservations required) Our gift shop has over 50 varieties of honey with free samples while you watch the bees make honey in our live observation hive. After Thanksgiving, we offer choose and cut Christmas trees.
Phone: (765) 537-9430
Address: 6501 W Honey Lane, Martinsville
Dates: Open all year round
---
Celebrate Fall Fun at Daniel's Vineyard in September and October with events for the whole family. All details can be found on the event page of the website: https://www.danielsvineyard.com/eventtickets
September 29th: Summer Concert Series, presented by NineStar – The Big 80's band closes out the Summer Concert Series at Daniel's Vineyard. Tickets still available online.
October 4th: BeLocal Family Concert Halloween Party – FREE event from 5:30-7:30pm, register online.
October 13th: Adult Only Halloween Party! – Secure a babysitter now for the Adults 21+ only event. More info to come online soon.
October 29th: Fall Blanket Workshop – Grab your friends (or you kids 12+) to learn how to make a Chunky Knit Blanket.
Phone: (317) 248-5222
Address: 9061 N. 700 W, McCordsville
Dates: September and October
---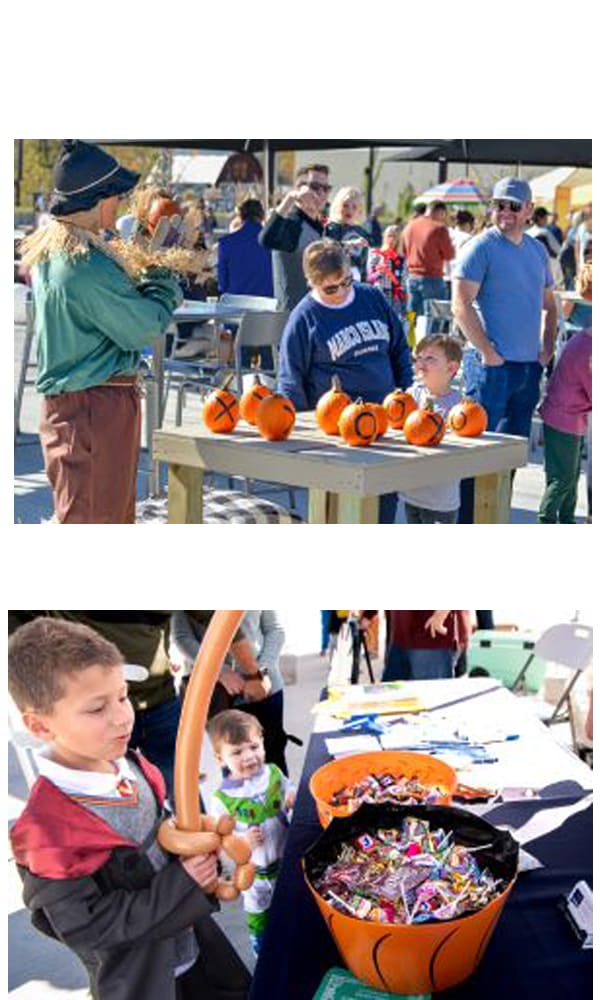 Pumpkin Funktion at Grand Junction Plaza
Experience the sights, sounds & spook-tacular fun of the fall season at this free fall festival! Enjoy activities like face painting, caricatures, balloon twisters, palm reading and more! Win special prizes at our fall-themed carnival games and step inside the Funky Fun House for kid-friendly thrills and chills. Savor delicious eats and treats from food vendors and check out the 25+ retail vendors featuring fashionable finds, handmade goods and homewares.
Date: October 21st at 1:00 PM – 4:00 PM
Trick or Treating in the Plaza
Kick-off your Halloween festivities by joining us for this community-wide trick-or-treating event! Local Westfield businesses and organizations will showcase their themed booths and fill your Halloween buckets with sweets and treats. Step inside the Funky Fun House for kid-friendly chills and thrills. Trick-or-treating will conclude at 7:30 PM followed by a special Movies in the Plaza showing of "Halloween" on the Great Lawn.
Date: October 27th at 5:30 PM – 7:30 PM
Phone: (317) 804-3182
Address: 205 S. Union Street Westfield, IN
---
Celebrate the cozy charms of autumn at Wasson Nursery Fisher's Garden Center. Our Fall workshops offer hands-on fun, perfect for enjoying the season with friends and family. Discover a vibrant selection of Fall Annuals, featuring pumpkins, mums, cabbage, and kale, all bursting with seasonal colors. Create your own unique arrangements and find fun Fall décor that will add warmth to your home.
Don't forget that Fall is prime planting time! We've got everything you need, from trees and shrubs to perennials. Get your hands dirty and let your garden thrive. And for a little extra enjoyment, check out our Local Brews section. Grab a drink and head to our outdoor patio, surrounded by lush greenery, and savor the crisp fall air. Relax and soak in the beauty of the season. Choose Wasson Nursery Fisher's Garden Center as Your Fall Destination Location. Come join us in celebrating all the Fall things together!
Phone: (317) 770-3321
Address: 13279 E 126th St., Fishers, IN
Dates: Year Round
---
We Have Something For Everyone At Stuckey Farm. Searching for a family-friendly fall destination brimming with amusement and delectable cuisine? Come make memories and start traditions with us!
Saturdays 9am-7pm & Sundays 1pm-5pm
Cider Week | Sept. 30th- Oct. 1st
Pumpkin Week | Oct. 7th-8th
Antique Tractor Week | Oct. 14th-15th
Frontier Week | Oct. 21st-22nd
Nightmare before Christmas Market | Oct. 28th-29th
$15 Festival Admission includes:
Adventure Acres (tube slide, jumping pillows, barrel train, pedal cars, toddler town); unlimited hayrides; pig races; corn maze; access to pumpkin patch and upick apple orchard, themed activities. Ages 2 and under FREE!
Phone: (317) 769-4636
Address: 19975 Hamilton Boone Rd, Sheridan, Indiana 46069
Dates: Saturdays & Sundays through October 29th