Indianapolis is home to some fantastic playgrounds. But there are times when parents need a safe indoor space for their kids to play – whether it's a rainy day, winter day, or overly hot summer day. Thankfully, Indianapolis has plenty of indoor playgrounds to choose from. Here are a few of our favorites:
Indoor Playgrounds & Trampoline Parks
Smiley is a massive 25,000 sq foot facility in Castleton with the latest Virtual Reality technology. They have unique interactive games and rides for children of all ages. They also have an enormous indoor playground with trampoline basketball, tubes & slides, rock-climbing, an obstacle course, fast raceway slides, and much more.
Location: 5729 E. 86th St., Indianapolis, IN 46250
Cost: Prices vary. Learn more here.
Hours: Open Monday, Wednesday, Thursday, and Sunday – 11:00 am – 8:00 pm; Friday, 11:00 am – 9:00 pm; Saturday, 10:00 am – 10:00 pm
Kid's Planet
Kid's Planet has a multi-story indoor playground that will make your kids have a blast. There are many play areas that your kids of all ages (up to 14) will love to play in, including a toddler play area.
Location: 499 Southpoint Circle, Brownsburg
Cost: Pricing varies. Learn more here.
Hours: Wednesday – Thursday 10 am – 8 pm, Friday & Saturday 10 am – 9 pm, Sunday 10 am – 7 pm; *Monday – Tuesday (School breaks and Summer only) 10 am – 8 pm
Kids Empire boasts a massive 15,000-square-foot play area where children can climb, run, and spin. With plenty of space to explore, kids can enjoy numerous activities in this innovative environment. Kids Empire features two indoor playgrounds: The Maze, which offers fun challenges for all ages, and the Tot area, designed specifically for younger children with age-appropriate structures.
Location: 8705 Hardegan St Indianapolis
Cost: $19.90/child for all-day access
Hours: Monday-Thursday: 10 am-8 pm; Friday to Sunday: 10 am-10 pm; Holidays Hours: 10 am-10 pm
Sky Zone Indy
Sky Zone North Indy is an extreme airpark that offers many activities to "defy" gravity. From trampolines to aerial silks, there is something for everyone. Defy Indy also offers a Ninja Warrior Course and many opportunities to practice your ninja skills.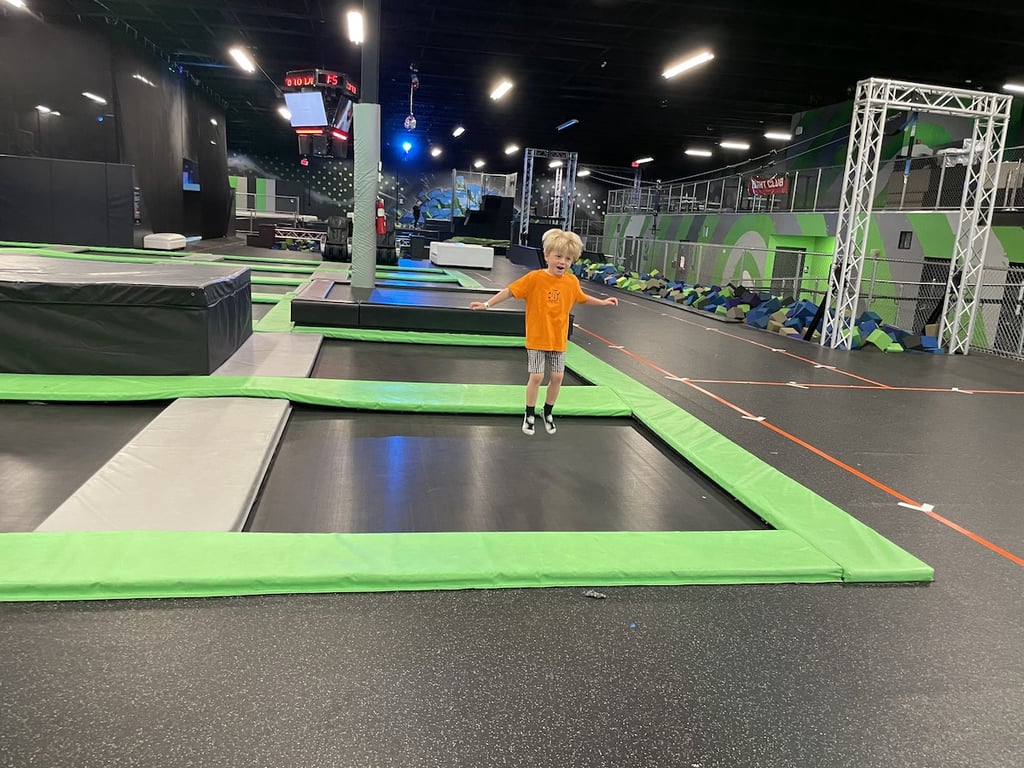 Location: 8356 Masters Rd, Indianapolis, IN 46250
Hours: Monday – Wednesday, Sunday: 9 am-9 pm; Friday-Saturday: 9 am-10 pm; Closed Thursdays.
Cost: Tickets and monthly memberships range based on day and age. Find more info here.
Little Kid Hours: Every weekday from 9 am to noon, children six and under pay only $16.99, including one adult.
Adrenaline
Adrenaline is the perfect place for an adventure! Have a blast jumping on trampolines (of course), channeling your inner ninja warrior, making it to the top of the climbing wall, or challenging your friends in jousting. Adrenaline is the largest indoor adventure park in Indiana, with 50,000 square feet of attractions, including our ALL NEW ropes course, warped wall, stunt fall, giant inflatable hamster balls, all sports course, harnessed climbing wall, and MORE!
Location: 10080 E 121st St Suite 182, Fishers, IN 46037
Hours: Monday: CLOSED, Tuesday – Thursday: 12 pm – 7 pm, Friday: 11 pm – 8 pm, Saturday: 11 am – 6:30 pm, Sunday: 11 am – 7 pm
Cost: Tickets and monthly memberships range based on day and age. Find more info here.
Little Kid Hours: Thursday & Friday morning from 9:30 am – 11 am. Children walking to 6 years old, $8 per Adventurer.
Seriously. There's so much to do inside Urban Air that you might have to come back for a second visit. Test your skills in the Warrior Obstacle Course, compete with friends, or practice your own tricks freestyle. No matter how you choose to play, you can take it to the next level at Urban Air. Urban Air has an enormous indoor playground perfect for younger children.
Location: 14450 Mundy Dr, Noblesville, IN 46060
Hours: Monday- Thursday: 10 am – 8 pm, Friday: 10 am – 9 pm, Saturday: 10 am – 9 pm, Sunday: 11 am – 8 pm
Cost: Tickets and monthly memberships range based on day and age. Find more info here.
Little Kid Hours: Children under six can purchase tickets for $8.99. Younger children can enjoy Friday mornings with no big kids during the school year.
Sweet Peas Play Cafe is an innovative pairing of a coffee shop for adults and an indoor playground for kids. The 3,500 sq ft facility has two unique play areas to accommodate children of all ages, including a unique space for crawlers. They specialize in premiere private birthday parties and special events.
Location: 1825 S. Plate St., Kokomo, IN 46902
Cost: $12 per child ages six months and up; memberships are available. Find out more here.
Hours: Monday, Wednesday, and Friday, 9:00 am-6:00 pm; Tuesday, Thursday, 9:00 am-2:00 pm; Saturday, 9:00 am-12:00 pm; Labor Day to Memorial Day, Monday-Friday 9:00 am-4:00 pm, Saturday, 9:00 am-12:00 pm Memorial Day to Labor Day
Indoor Playgrounds at Museums/Community Centers
Open Thursday through Sunday during the winter months, Discovery Station will delight kids through the age of nine. Here they can create, climb, explore, play and pretend. Activities include a Kids' Playscape, fort-building zone, craft area, reading nook, and more. There is even a special area devoted to infants.
Location: 13400 Allisonville Rd, Fishers
Cost: Included with admission to Conner Prairie; free for members
Hours: Thursday – Sunday, 10:00 am – 5:00 pm
Playscape at The Children's Museum of Indianapolis
The Playscape at The Children's Museum of Indianapolis is the perfect place for kids ages five and under to learn through sensory exploration. There are different spots for toddlers and babies, with a climbing pod, sand area, water play, and much more. This space is entirely family-friendly, too, with amenities like private nursing areas, family restrooms, and diaper-changing stations. They've thought of everything!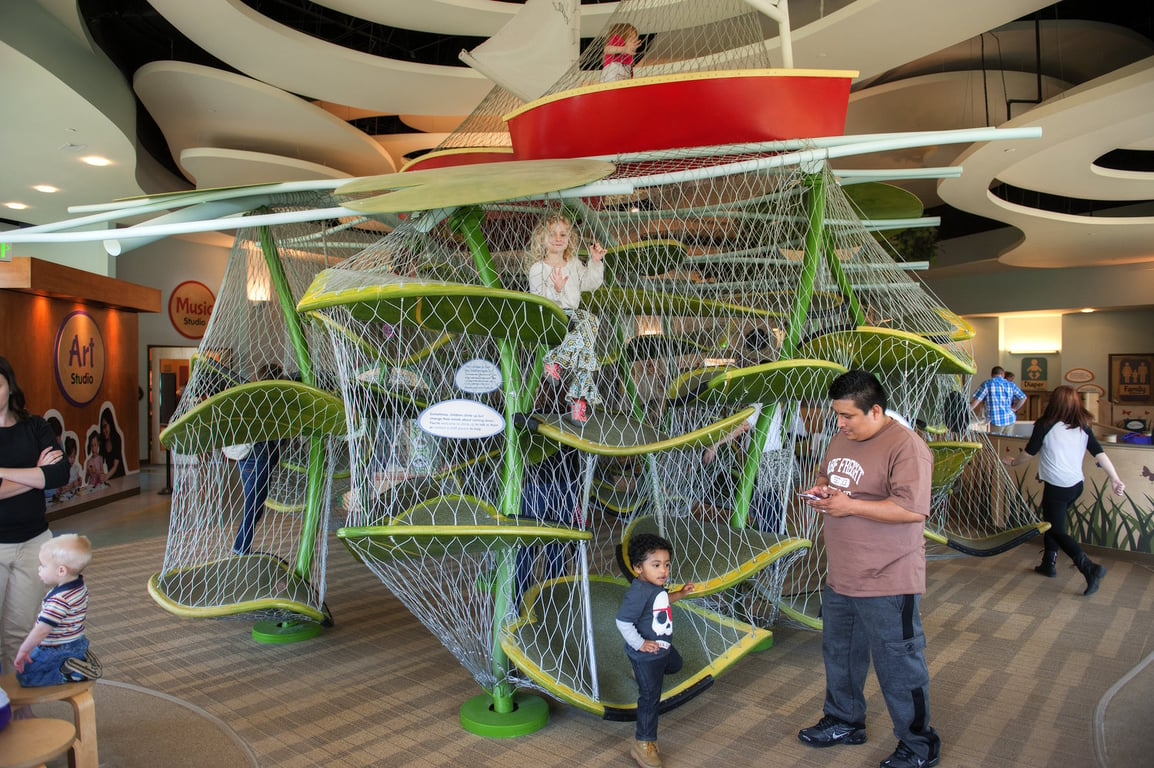 Location: 3000 N. Meridian Street, Indianapolis
Cost: Entrance is included with paid general admission; free for members
Hours: Vary by season. Learn more here.
Kid City at the Greenwood Community Center opened in 2017 as part of the reimagined Community Center. The two-story space is a year-round indoor playground for children, with STEAM-focused activity centers incorporating educational themes, art, science, and music. This Greenwood gem has something for everyone.
Location: 100 Surina Way, Greenwood, IN 46143
Cost: $5.00/child and free for adults
Hours: Monday – Thursday, 9:00 am – 6:00 pm; Friday: 9:00 am – 4:00 pm; Saturday – Sunday, 10:00 am – 4:00 pm
Broad Ripple Park Family Center is now home to one of Indy's newest indoor playgrounds. Children can play at the indoor playground for $2/child. The playground features one large structure with a giant tube slide at the top. The family center also has activity tables and toys for even more indoor play.
Location: 1426 Broad Ripple Ave, Indianapolis, IN 46220
Cost: $2.00/child
Hours: Monday-Friday: 9 am-8 pm; Saturday: 9 am-5 pm
Free Indoor Playgrounds
Related Article: Free Things to do in Indianapolis
The Treehouse is only open to the public two days a week, but seeing this beautiful indoor play structure bathed in natural light is worth the trip. Geared to kids ages 2 to 12, it is designed to look like a whimsical tree with tons of space for kids to climb until they are ready to slide down.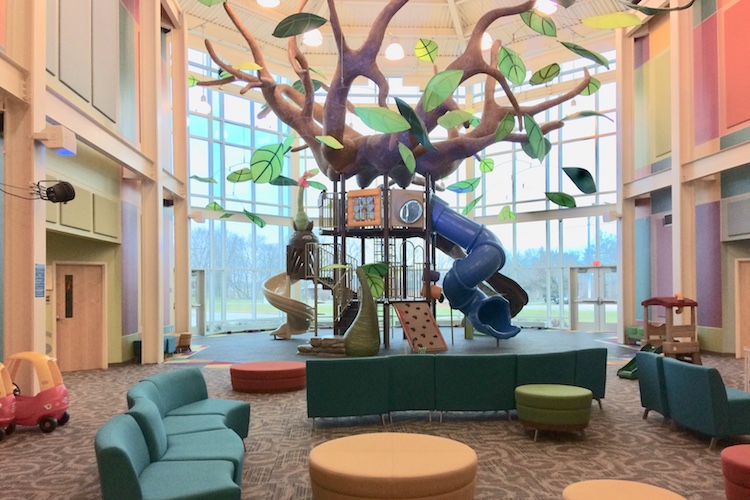 Location: 800 Dan Jones Road, Plainfield
Cost: Free
Hours: Tuesdays/Thursdays: 9–11 am or 1–3 pm
This one is a bit of a drive from Indianapolis but well worth it. This HUGE indoor playscape has individual areas for tots, preschoolers, and the big kids, plus it's FREE. And parents, it's such a blast that you'll soon find yourself scaling the 3-story climber.
Location: 300 Washington Street, downtown Columbus
Cost: Free
Hours: Closed Monday; Tuesday – Saturday, 10:00 am – 5:00 pm; Sunday, 1:00 – 5:00 pm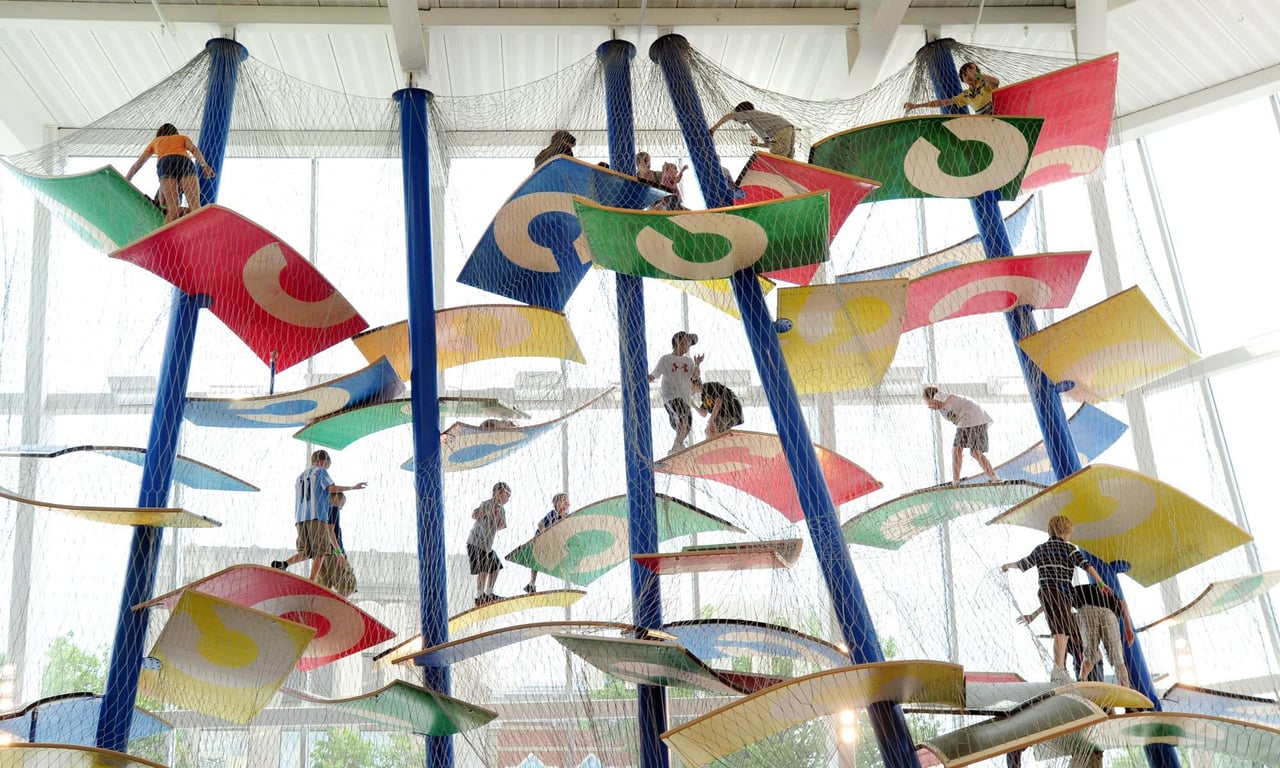 Newly opened, this indoor playground offers plenty of climbing opportunities for the older kids and a separate area with toddler-friendly equipment, making it a safe and inviting space for all ages.
Location: Cornerstone Lutheran Church, 13450 E. 116th Street, Fishers
Cost: Free
Hours: Monday – Friday, 9 am-1 pm; Sunday, noon-2 pm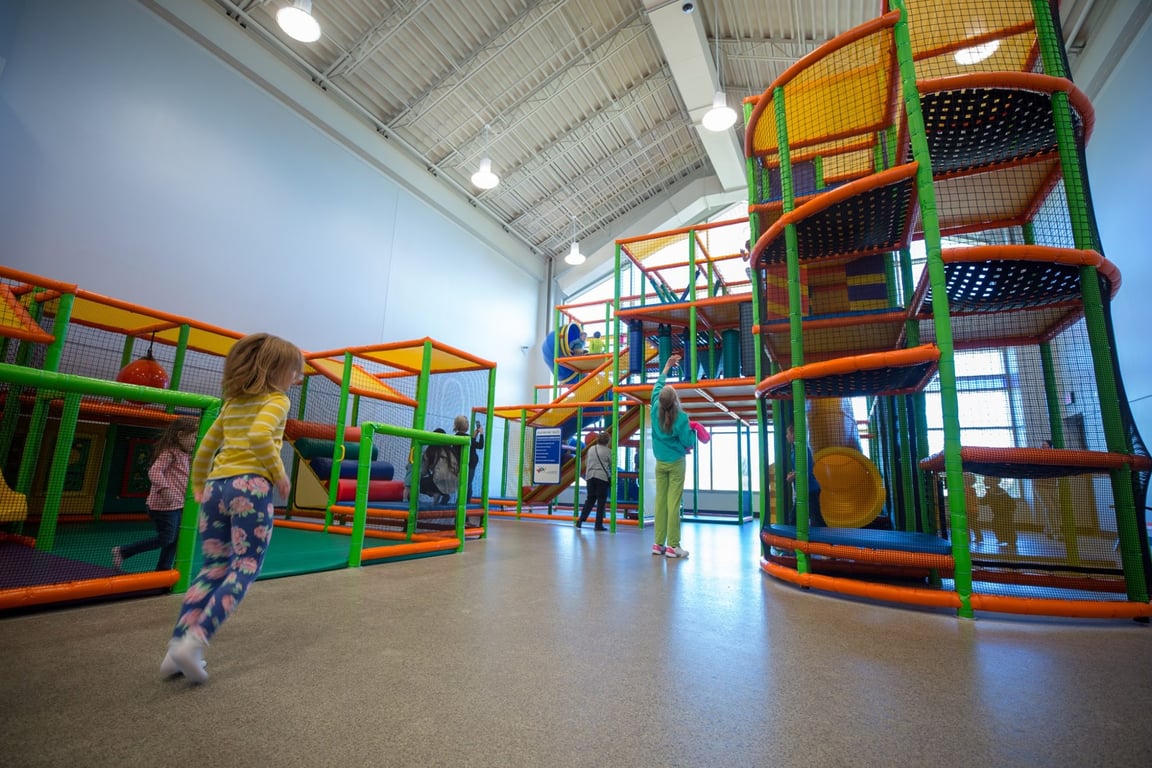 The Park is every kid's dream. The expansive space is separated into zones, including a preschool play structure, a larger play structure for older kids, basketball courts, a rock-climbing wall, and a quiet zone (perfect for kids with special needs who may become overstimulated). There is also an oasis where you can take a break and have a snack. Whether you're looking to let your kids work off extra energy, meet new friends, or want to relax while your kids play in a safe, fun environment, you'll feel at home here.
Location: Traders Point Christian Church, 6590 S Indianapolis Rd, Whitestown
Cost: Free
Hours: Wed-Thurs: 3 pm – 7 pm; Friday: 8 am-Noon & 1 pm – 5 pm; Saturday: 8 am-Noon; Sunday: 1 pm – 5 pm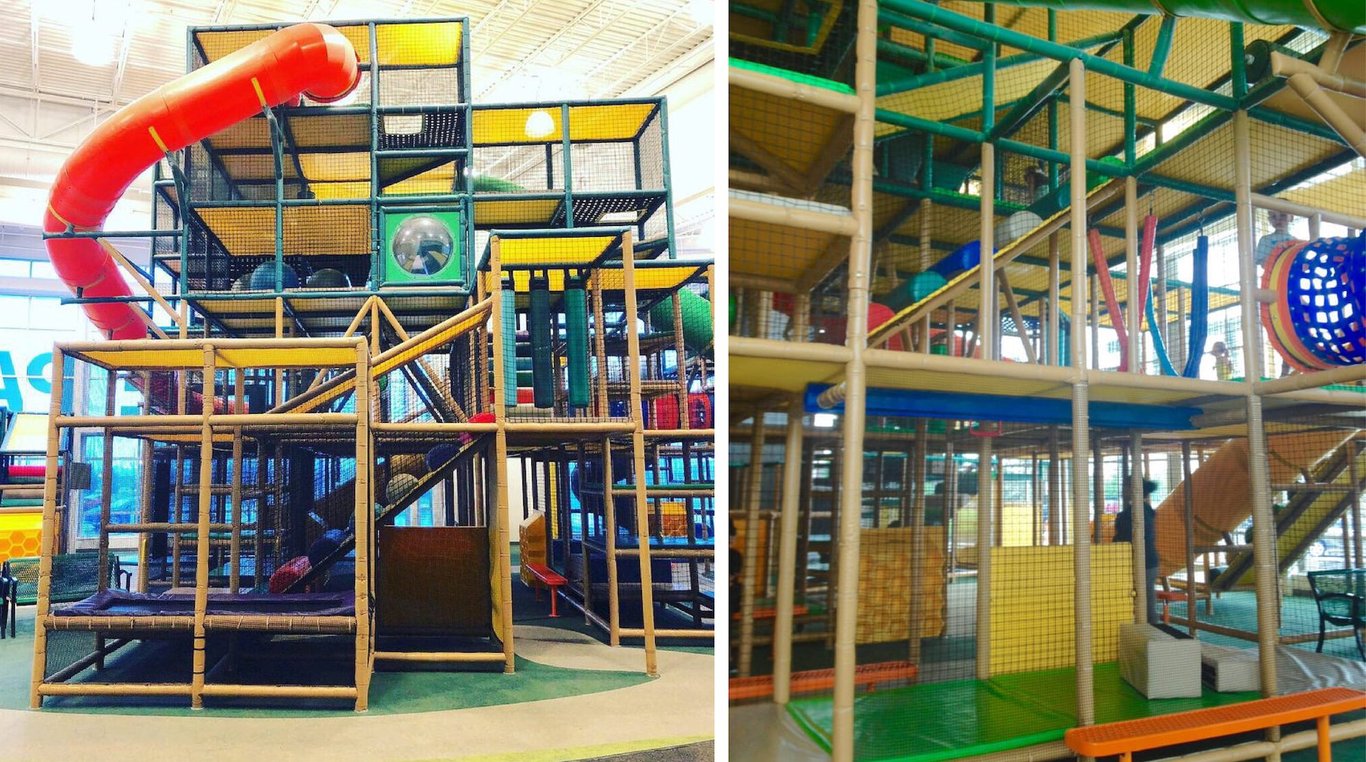 The PLAYZONE is a fabulous new indoor playground located in Anderson at the Community Center @ AFC. It is 40 feet long, 27 feet wide and 24 feet high. 5 levels offer unique slides, climbing and more! To make things even better, PLAYZONE is free and open to the public six days a week.
Location: 2301 Meridian St, Anderson, IN 46016.
Cost: Free
Hours: The PLAYZONE is open Monday-Sautrday from 10 am-6 pm.
This indoor play area was made by an Earth-friendly community using only re-purposed toys, furniture, and even carpet tiles. Best of all, it is free to the public and open to children of all ages. Everyone who comes to play must fill out a release form that can be completed when you arrive or online beforehand to save time.
Location: 554 Pit Road, Brownsburg
Cost: Free *Currently only open to private appointments
Hours: Monday – Wednesday, 9:00 am – 1:00 pm; Monday and Friday, 5:00 – 8:00 pm
Appointment: Private appointments are available most Mondays, Wednesdays, and Fridays. Appointments cost $30 for 2 hours, with 15 people. Find appointment info here.