Nature centers are great places to bring kids because they allow children to interact with nature firsthand. No matter the weather, nature centers provide a place to experience nature. Most central Indiana nature centers offer special activities and events that are perfect for families, like story time, family hikes, and campfires.
Nature centers provide visitors with a way to get close to nature – indoors! Bonus: Most nature centers are free to visit.
These are the top 10 nature centers near Indianapolis worth checking out!
---
6363 Spring Mill Rd, Indianapolis
What makes it special: The dynamic exhibit in Habitat Hall includes the White River Water Table, Music of the Wetlands Exhibit, and an elevated Hardwood Forest viewing area allowing visitors to experience the forest canopy. Free.
5901 Delong Road, Indianapolis
What makes it special: As soon as you walk in, it's very likely you'll be greeted by some sort of creature! That might be a snail, or during the summertime, you can even catch the morphing of a caterpillar into a monarch butterfly right at the front desk. Inside the center you'll find a beehive, exhibits of the American toad and grey tree frog, and much more. Free with park admission.
2100 E 151st St, Carmel
What makes it special: Families, school groups and nature lovers can explore the science of Indiana woodlands and learn about the importance of preserving plants and animals in their natural habitats.
250 N 5th Street, Zionsville*
What makes it special: The Zionsville Nature Center encourages Zionsville and Central Indiana families to actively participate in their native environment through educational and inquiry-based programs and activities. Free.
*The Zionsville Nature Center is located within the Youth Services Department at the Hussey-Mayfield Memorial Public Library.
5203 East County Road, Avon
What makes it special: Here you will find several different animals, including the park's two sulcata tortoises named Jack and Diane; Maize, a friendly corn snake; an iguana; a Cuban tree frog; aquatic turtles; and many other critters. The animals that live at Pecar Park's nature center are there because of a partnership with A Critter's Chance, a Plainfield-based animal rescue organization. Most of the critters you see at the nature center are available for adoption (with the exception of Jack and Diane). Free.
12308 Strawtown Ave, Noblesville
What makes it special: The Taylor Center of Natural History displays exciting archaeological finds uncovered at Strawtown Koteewi Park. Park guests can learn about the history of the land that is now Strawtown Koteewi Park from artifacts and educational displays. Related Article: Strawtown Enclosure: Native American Village Tour. Free.
4306 Mounds Road, Anderson
What makes it special: The park itself is home to the Great Mound, a structure thought to be constructed by the Adrena-Hopewell people in 160 B.C. The Nature Center gives ample information on the rich history and includes a wildlife viewing room, animal displays, interactive games and more. Free with park admission.
8121 Park Rd, Marshall
What makes it special: Turkey Run State Park offers interpretive naturalist services all year long. Scheduled programs include hikes, planetarium programs, history talks, a junior naturalist program, and evening programs. Free with park admission.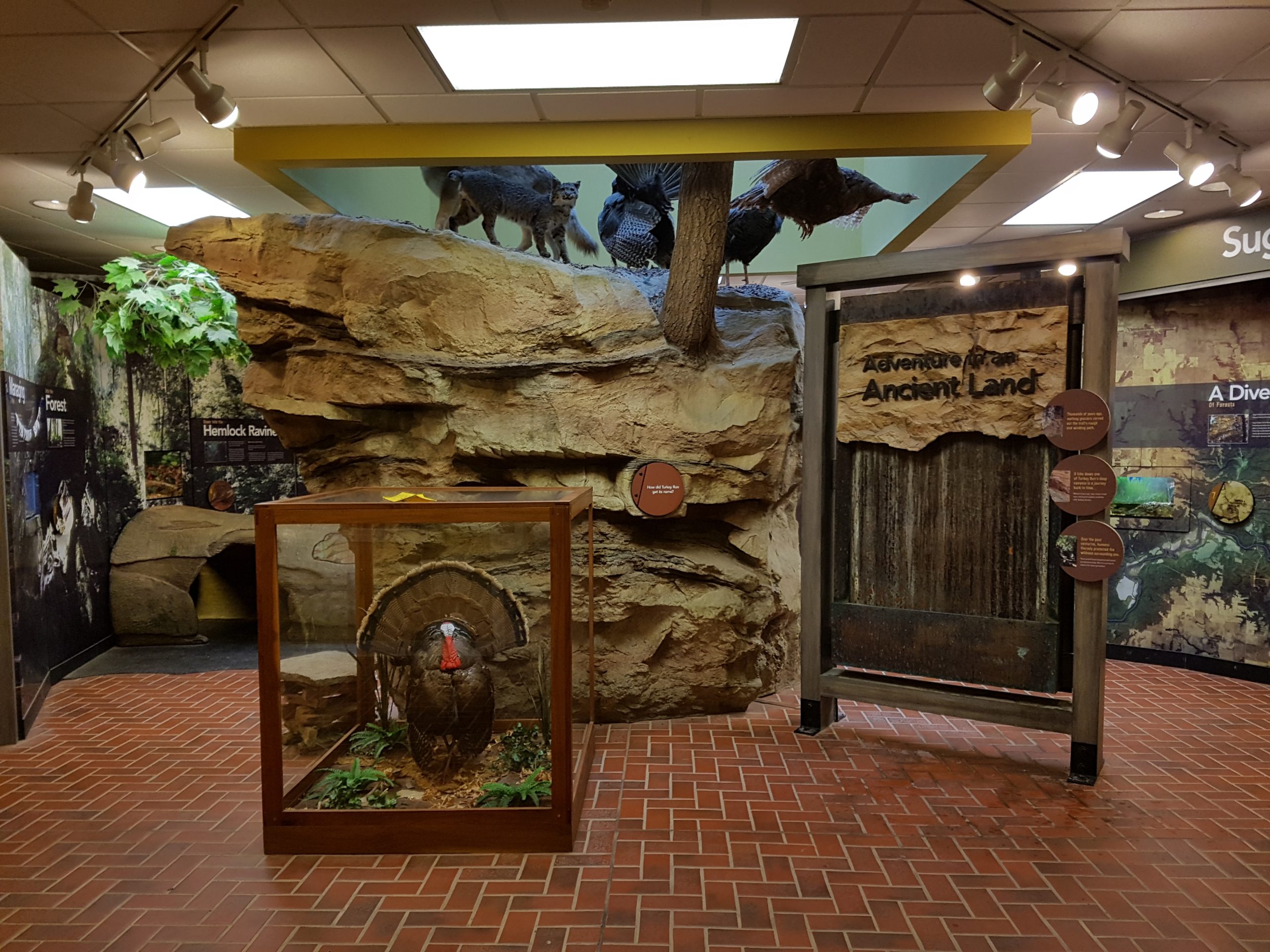 8518 Hughes Rd., North Salem
What makes it special: The McCloud Park Nature Center hosts over 1,000 square feet of exhibit space and is filled with informative modern exhibits, animal specimens, interactive and educational computers, a bird viewing area, a greenhouse, a resource library and rotating local artists' exhibits. Free.
250 McCormicks Creek Park Road, Spencer
What makes it special: The Nature Center at McCormick's Creek State Park, designed on the 'Please Touch – Gently' theme, houses natural history exhibits, nature games and quizzes, a wildlife observation room, and a full range of naturalist-led activities available free of charge to park visitors. Free with park admission.
Upcoming events at local Nature Centers: