The Sullivan Express is back with non-stop service to PumpkinTown! Families can board the train at Sullivan Hardware and Garden's Allisonville location and enjoy a fun fall activity for the whole family.
Tickets for the 2023 PumpkinTown Sullivan Express go on sale September 1, at 4 pm!
The perennially popular Sullivan Santa Express holiday train ride has been a family favorite for years. Now for the second year, Sullivan Hardware and Garden has expanded their immersive train experience to include a Halloween-themed train with goodies galore.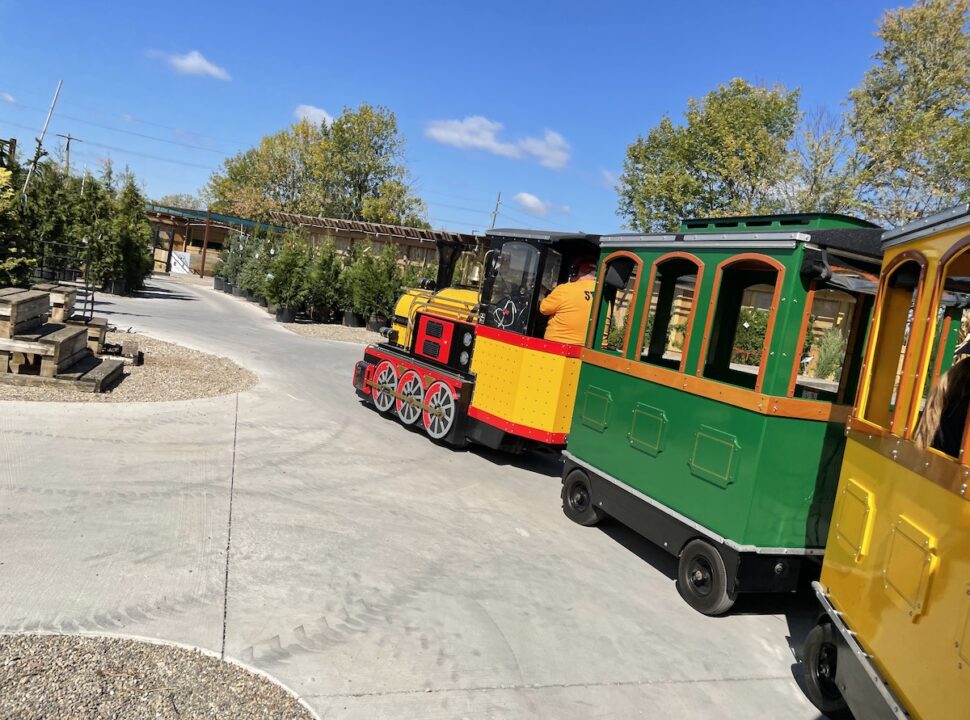 What to Expect
Families start their journey to PumpkinTown at the Central Station, located inside Sullivan Hardware and Garden. Then, you board one of the five Sullivan Express trains operating on the PumpkinTown rail. Once aboard, you'll enjoy the Halloween train ride as it makes its way through the enchanted forest filled with not-so-scary creatures. The trip lasts about 15 minutes.
Related Article: 7 Best Fall Train Rides in Indiana
Once your train ride ends, you disembark at the PumpkinTown Station, where the mayor of Pumpkintown'll greet you. Families can explore and enjoy PumpkinTown. Activities include watching a magic show, enjoying a dance party, trick-or-treating at mini houses, take lots of pictures, and much more.
Visitors can hang out at PumpkinTown for up to 45 minutes before re-boarding the Sullivan Express back to Central Station. Once at Central Station, visitors can purchase delicious fall treats, like apple cider slushies.
Tickets for Sullivan Express to PumpkinTown
Tickets for Sullivan Express to PumpkinTown can be purchased online beginning September 1, at 4 pm. You may fit as many family and friends in the car as you would like; however, a typical car holds four adults and two children. Adults who do not fit in the car can make the journey by foot and meet the rest of their group in PumpkinTown.
More Info
For more info about the Sullivan Express to PumpkinTown, visit the website. Sullivan Hardware and Garden is located at 6955 N Keystone Ave. in Indianapolis.