Do you have a case of spring fever? We certainly do! So, pack the lunches, load the cooler and jump in the car to explore these great Indianapolis playgrounds sure to make your kids smile.
Playgrounds in Indianapolis
Colts Canal PlaySpace
Canal Walk, Indianapolis*
Located on the north end of the Downtown Canal Walk off of West Walnut Street, the nearly one-acre playground boasts a swirling roller-coaster-looking climbing tower, ladders galore, slides for kids big and little, swings, a spinner bowl, twister nets and stepping stones. Many of the playground's features require climbing, so the Colts Canal PlaySpace is especially fun for older, school-aged kids who like to scale and be adventurous. Little climbers will have a blast making their way up the huge structure to the top of the lookout, which is the only way to get to the entrance of the giant, fast-moving metal tunnel slide.
Highlights: urban playspace along the canal, cushioned flooring, great playground for climbers
*No official address, but if you put 714 N Senate Ave in your GPS you will get pretty close.
Holliday Park
6363 Spring Mill Road, Indianapolis
Located just six miles north of downtown, Holliday Park is one of the oldest parks in Indianapolis featuring: an outstanding playground area, a Nature Center featuring Habitat Hall, over 3.5 miles of trails, access to The White River, the Holliday Park ruins and more.
Highlights: The 20-foot slide tower, spider web climbing apparatus, short walk to the ruins and nature center.
---
Related Article:10 Coolest Playgrounds in the Indianapolis Area
---
Tarkington Park
45 W 40th St, Indianapolis
This modern and recently overhauled playspace is located in the heart of the city. While Tarkington Park is equipped with the standard playground fare such as swings and slides, it also offers more innovative features such as synthetic grass and oversized instruments, making this playground fun for children of all ages. The aesthetic will entice visitors, and the well-designed play area will keep them coming back.
Highlights: The giant climbing orb, chimes, rock climbing wall and splash pad in the summer.
Commons Park
Commons Park is a bright and cheerful space, full of colorful fun on Indy's east side. Opened in late 2018, this small but sweet playground features a greenspace, seating and other fun for families. Tucked into a neighborhood, Commons Parks has a playground that is perfect for older kids and younger kids alike. The main centerpiece of the playground is a giant playground structure that is built for all ages. Older kids will love climbing on a big structure that's similar to a ropes course. Younger kids will enjoy the toddler play structure that features slides, bridges, monkey bars and more.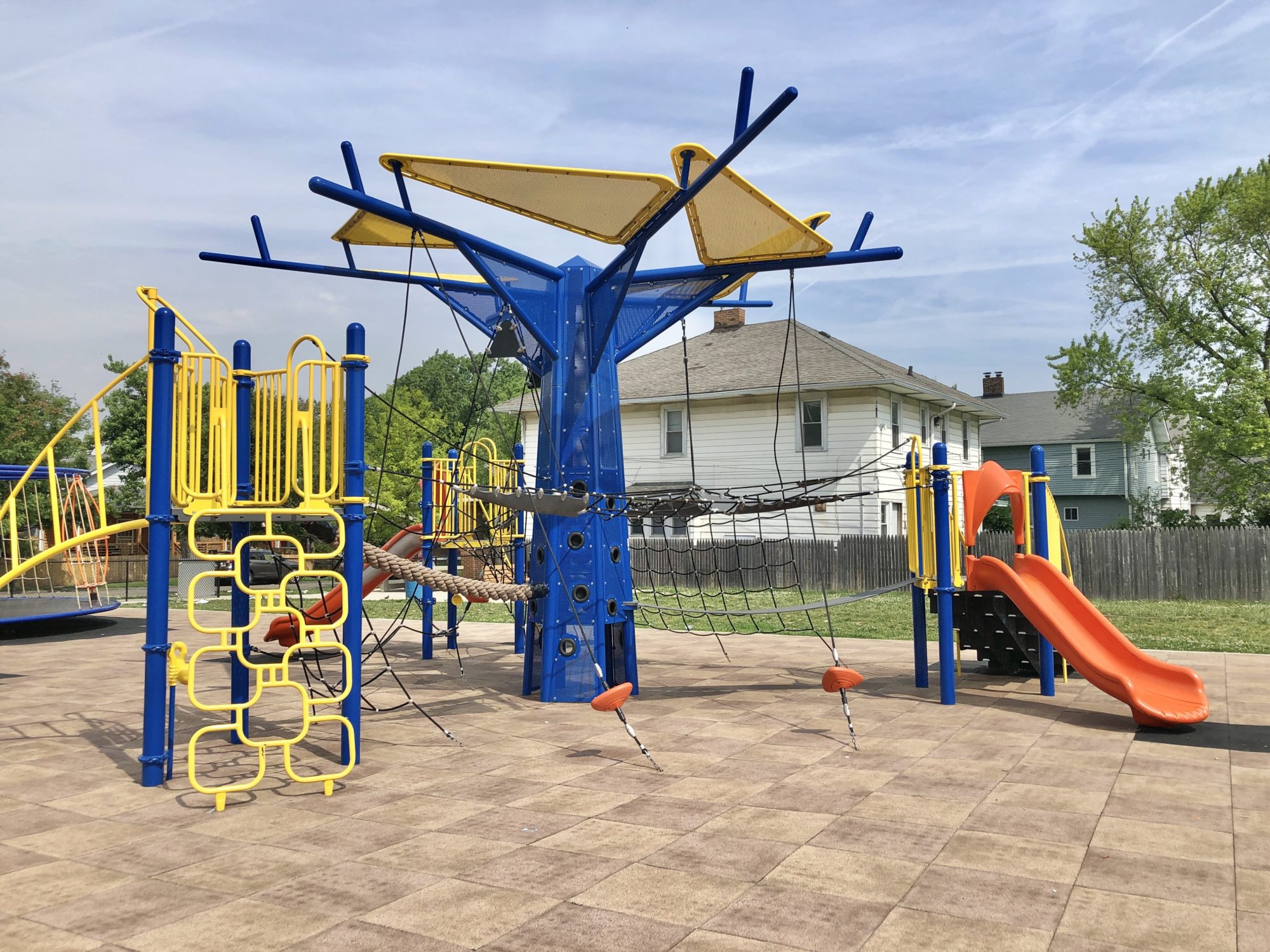 ---
Hamilton County Playgrounds
Founders Park
11675 Hazel Dell Parkway, Carmel
Founders Park offers a lot to do in a space that is partially enclosed by a short stone wall, making it easy to keep an eye on all of the kids.
Highlights: Spider web net, rock structure for climbing, play structures for both the big and the little kids.
Quaker Park
7501 Dartown Rd., Westfield
Quaker Park got a huge facelift in spring 2017. The playground was updated with lots of equipment that is safe and fun for all ages and abilities. The ground in the playground area is covered with safety turf, which stays nice and cool even when the sun is beating down on it. It's also super soft to walk on — and land on, if you happen to fall while playing.
Quaker Park is the only park in Westfield that has a splash pad, so it's a cool place to hit up when it's hot outside. The splash pad has several misters pumping water that will get you wet, and lots of space to run around.
Highlights: Large rope climbing dome, separate area for babies and toddlers, splash pad within playground.
Westermeier Commons Playground
111th Street and College Avenue, Carmel
Spanning 25,000 square feet, this playground is a child's dream come true. Right away children will be intrigued by the science fiction-inspired appearance of Westermeier Commons, and parents will be impressed with the safety features such as the rubber safety surfacing, age-appropriate zoned play and the hill, which creates a natural barrier to slow adventurous little ones.
Highlights: Tunnels and coves throughout the playground, two 32-foot tall enclosed towers and the unique climbing walls.
---
Related Article: 8 Indiana Playgrounds Worth The Drive
---
Roy G. Holland Memorial Park
1 Park Drive, Fishers
In addition to its massive play structures, Roy G. Holland Memorial Park has something everyone to enjoy: Soccer, baseball and softball fields, sand volleyball courts, basketball courts, wooded areas, picnic areas and an active community building perfect for special occasions. Just walk the loop trail to catch the action or to meet up with friends and neighbors out on a beautiful day.
Highlights: Huge toddler zone, fields, modern playground with cushioned flooring.
Carey Grove Park
14001 Carey Road, Carmel
Carey Grove Park in Carmel reopened earlier in 2021 with a fresh new look and many exciting features that are great for all ages and abilities. The playground is evenly divided into two zones: one side for young children up to age 5, and the other side for kids ages 5 through 12. The unique playground offers kids lots of climbing, swinging and even spinning opportunities. Adults weren't left out during the design of this playground and can find workout equipment that faces the playground.
Highlights: Modernized and unique structures, workout equipment for adults, large musical instruments
Finch Creek Park
16233 Boden Road, Noblesville
There is something for all ages and abilities at Finch Creek Park, the newest Noblesville park with an amazing, all-inclusive playground. Located on the east side of Noblesville, this 200-acre Wayne Township park opened in spring of 2020, and the playground is truly a sight to behold. Thrill-seekers will love the two obstacle courses that are suspended over the playground, and huge tube slides. Younger children can explore the smaller treehouse made just for them.
Highlights: Parkour styled obstacle course, 4 person teeter-totter, toddler treehouse
---
West Indianapolis Playgrounds
Williams Park (Blast-Off Playground)
940 S Locust Ln, Brownsburg
Williams Park is known for its Blast-Off Playground, a large, newly painted wooden play structure. The idea for this themed playground was conceived by the children of Brownsburg Community School Corporation, and their vision was brought to life with the assistance of more than 2,500 volunteers who worked to assemble the structure.
Highlights: Large playground and splash pad.
---
Southside Playgrounds
Old City Park
304 S Meridian St, Greenwood
Old City Park reopened in 2020 and has been completely re-imagined and redesigned. This brand-new playground includes an 18-foot wide promenade next to Pleasant Creek, seamlessly integrating into the creek's natural landscape; a custom climbing wall and, for younger children, a custom climbing net; extensive open space for non-structured developmental play; a new pedestrian bridge, urban porch swings, bocce ball courts and more. The 20-foot cube tower is the first of its kind in Indiana, and one of only three in the country.
Highlights: one of a kind 20-foot cube tower, climbing nets, foosball tables
Firefighter Play Pocket Park
Calling all kid firefighters and their caregivers! There's a fire department-themed playground you need to know about in Johnson County, and it's lit! (Pun intended!) Firefighter Play Pocket Park in Greenwood is the perfect place to take your little firefighter to play. And you might even see a real fire truck or two while you're there, because the pocket park is located right behind Greenwood Fire Station 91.
---
Want to discover even more Indianapolis Playgrounds? Explore all of our playground articles at indyschild.com/indy-playgrounds.