If you're an avid outdoor enthusiast, no doubt you already have some of your favorite local trails on lockdown.
Our great Hoosier state has many! And now is as good a time as ever to get out in nature. If you're looking for suggestions on where to hike as a family, here are some we think are worth visiting.
Where to Go Hiking with Kids in Indianapolis:
Recommended: Landscape Journeys Trail around the lake
The 100 Acres is always good for a fun adventure: Park at the entrance off 38th Street and make the trek in – this is a very stroller-friendly entry. Play at the Funky Bones exhibit, swing on the Chopstick swingset, and take a hike around the lake. Enter the trails from the west side of the park; there is a loop that hikers can take to avoid doubling back. Your 4-legged friends are also welcome at The Virginia B. Fairbanks Art & Nature Park: 100 Acres as long as they are leashed. Download Map.
Recommended: Tulip Pawpaw Trail (1.5 miles)
Away from the bustle of the playground and on-site Nature Center, the Tulip Pawpaw Trail lines Cool Creek and juts to the far east property line of the park. After your hike, go creek stomping. (We think Cool Creek Park is a hidden gem! Read more.) Park entry is free. See map.
Recommended: Unnamed trail leading down to Williams Creek for creek stomping.
Marott Park is located near College Street and 73rd Street in Indianapolis. As you make your way around the 84 acres of this park, look for the paths that will take you to the banks of Williams Creek, a tributary of the White River. The great thing about Marott Park is that the creeks are relatively shallow (depending on how much it has rained recently, of course). This makes it a nice place to bring toddlers and kids who might be reluctant to wade into natural bodies of water. You will also find bridges, steep hills, and winding paths throughout the park. Park entry is free.
Recommended: Edesess Trail (1.25 miles one way) or Orange Trail (2.5-mile loop)
Many people tend to mistake Eagle Creek as a state park, but it's actually one of the highlights of the City of Indianapolis-Indy Parks system! Known for its canoe/kayaking rentals and great Discovery Center, Eagle Creek is also packed with fabulous trails. The Edesess Trail takes you through the woods and along the ridge above the bird sanctuary. This is the direct trail between the Ornithology Center and Earth Discovery Center. The Orange Trail will take you through the woods in the lower half of the park. There are a few stairs and steep hills to climb, so babywearing is recommended for little ones. Both are considered Easy to Moderate hiking. Admission is required for entry. See map.
Recommended: Harrison Trace Trail beginning from Shafter Shelter and heading west (approx. 0.75 miles) or Camp Creek Trail (2.0 miles)
"Fort Ben" is definitely the house favorite for a hike. The Harrison Trace Trail in full runs 2.75 miles and is an Easy, paved option. It lines Delaware Lake for great wildlife viewing; to the west, it runs through an old tree nursery. While Fall Creek Trail is a shorter route, Camp Creek Trail is a Moderate path that's a little easier to traverse with kiddos and offers some areas for creek stomping. Also onsite at FHSP: Playgrounds galore (Shafter Shelter near the sledding hill is a great one!), a small nature center near park offices, and plenty of picnic space. Admission is required for entry. See map.
Recommended: All of it!
IMA neighbor Marian University Nina Pulliam EcoLab is home to a plethora of easy, tot-friendly trails and lots of great sights to see like bat boxes, skunk cabbage, and more. Kids will love this stop and the sights. Entry is free. See map.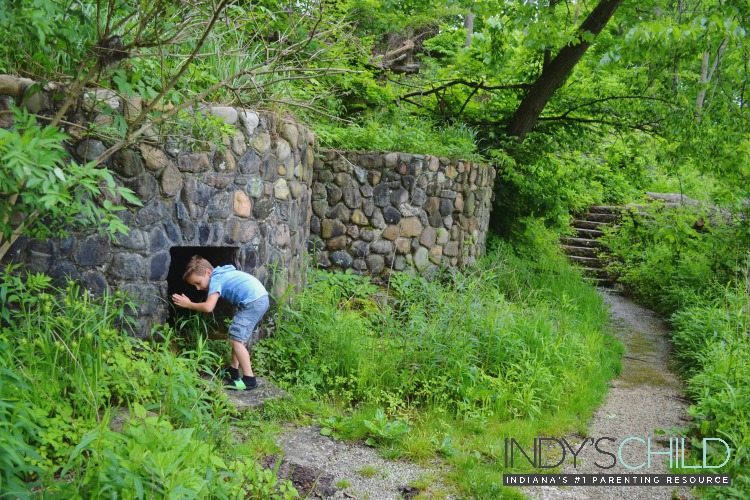 Recommended: Unnamed trail lining the Nature Area.
Where Southport Road meets the White River, Southwestway Park is a well-kept secret among urban hikers thanks to the vast landscape by the river, through grassy and meadow areas, or upon the bluffs. Keep in mind that trails are shared with mountain bikes and occasional horse riders. Finish off your visit by hitting the playgrounds or letting kiddos loose on the baseball fields. Free entry. See map.
Other locations with great, kid-friendly trails worth the drive: