Want to hit the road for a fall day trip? These road-trip-worthy destinations are perfect for families!
19 Kid-Friendly Day Trips Perfect for Fall in Indiana:
The Apple Works
Address: 8157 South 250 West, Trafalgar
The Apple Works is a family-run, family-oriented apple orchard and pumpkin patch located on gently rolling hills in Trafalgar, Indiana. The country store and grounds of Apple Works are open 7 days a week April-December, but fall is when the farm really gets to shine. During the weekends of September and October, visitors can enjoy live music and other entertainment, a train ride called the Apple Express, a petting zoo, a bamboo maze, a super slide, and more.
Bonus: Admission to Apple Works is free, as are several fall activities, including a petting zoo and a bamboo maze. Other activities cost $3-$5.
Natural Valley Ranch in Brownsburg
Address: 6310 County Rd 350, Brownsburg
Natural Valley Ranch in Brownsburg is a gem. The 78-acre ranch that runs along White Lick Creek is the biggest ranch in Hendricks County for horseback riding. It is also known for events like Bountiful Babies (a spring event celebrating the baby animals born on the farm). Children 5 years of age and older can participate in a trail ride, but there are pony rides for $5 per person for younger kids.
Exotic Feline Rescue Center
Address: 2221 E Ashboro Rd in Center Point, IN
The Exotic Feline Rescue Center (EFRC) is a non-profit organization dedicated to the rescue, care and conservation of exotic felines. Founded in the early 1990's, the EFRC has served as a rescue center and forever home to many exotic felines that have been abused, unwanted, or neglected. The EFRC cares for over 100 cats and 6 foxes on its 200-acre property located in Center Point, IN.

Turkey Run State Park
Location: Marshall, IN
Nestled along State Road 47 southwest of Crawfordsville, Turkey Run State Park is glorious year-round, but especially in the fall. Walk in the footsteps of the Miami Indians along breathtaking trails that wind through sandstone cliffs and gorges. Get a sweeping view of the aged forests that line Sugar Creek from the park's Suspension Bridge.
Related Article: 6 Best Indiana State Parks to Visit with your Kids
Brown County State Park
Location: Nashville, IN
Of course, no Indiana fall foliage list would be complete without Brown County State Park. At 16,000 acres, this is Indiana's largest state park, offering ample hiking trails, scenic drives as well as guided horseback rides that get you up close and personal with the splendor of fall. Nearby, downtown Nashville, Indiana, is a great place to explore quaint shops and grab a bite to eat.
Related Article: Top 5 Fall Foliage Destinations in Indiana
Parke County
Location: Parke County
With a whopping 31 covered bridges, Parke County has earned the title of "Covered Bridge Capital of the World"! And there's no better time to drive through this scenic destination than fall. The Parke County Covered Bridge Festival, scheduled for October 13 through 22, 2023, is a great choice for families looking to attend a unique fall festival.
Wolf Park
Address: 4004 E. 800 N., Battle Ground, Indiana
Just outside of West Lafayette is where you will find Wolf Park, a 70-acre nonprofit park dedicated to providing habitat to wolves, foxes, bison, and other animals for educational purposes.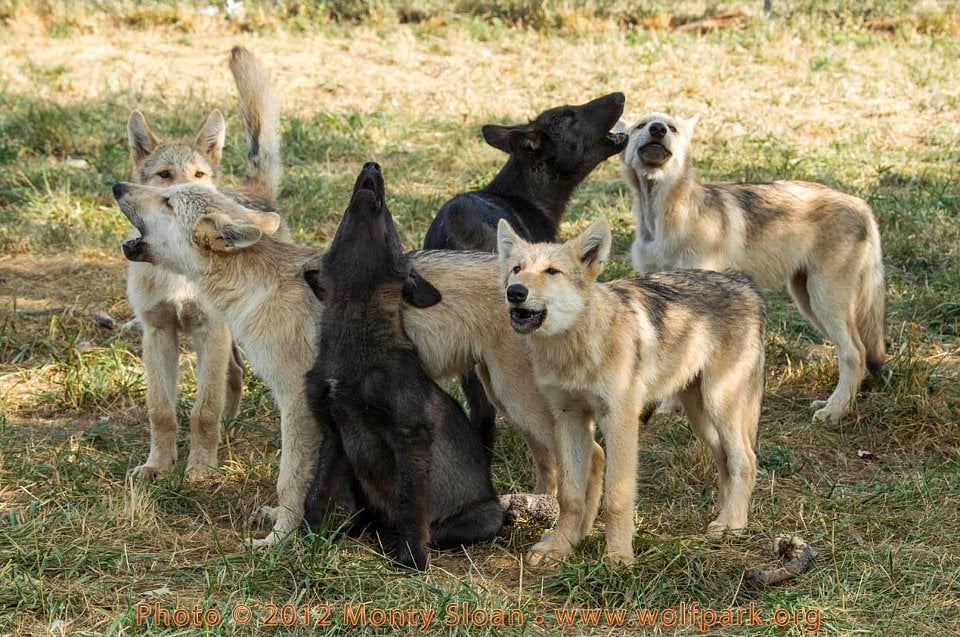 Hoosier National Forest
Address: Bedford, IN
Hoosier National Forest, in the hills of south central Indiana, provides many opportunities and resources for people to enjoy. Rolling hills, back-country trails, and rural crossroad communities make this small but beautiful 204,000 acre Forest a local treasure.
The Hickory Ridge Lookout Tower, located inside Hoosier National Forest near Indiana University, offers a fall foliage experience like none other in Indiana. The Lookout Tower was built in 1939 by the Civilian Conservation Corps and remained in use as a fire lookout tower for the park into the 1970s.
Exploration Acres
Address: 6042 Newcastle Road, Lafayette
If you're looking to get out of town with your family and enjoy the magic of the fall season, just drive about an hour north of Indianapolis to Exploration Acres, a family farm in Lafayette that boasts the largest corn maze and pumpkin patch in northwest Indiana.
Heavenly Acres Farm & Learning Center
Address: 8241 West State Road 32, Thorntown
Heavenly Acres Farm
is an interactive farm that's perfect for a fun adventure! The farm offers hands-on educational experiences with animals, crafts, and farm operations. Visitors can interact with a variety of farm animals, including donkeys, alpacas, sheep, chickens, ducks, turkeys, and friendly barn cats. Heavenly Acres Farm also offers
overnight farm stays
for families looking to immerse themselves in farm life experience.
Holiday World
Address: 452 E Christmas Blvd, Santa Claus
Fall is one of the best times of year to visit an amusement park. The weather isn't as hot, and crowds aren't as big, in the fall. During the fall, Holiday World celebrates the spookiest of holidays, Halloween! Visitors can knock on the creaky door of the SCAREbnb, or peek inside Professor Holiday's Wacky Workshop of Wonders. Children can travel down the trick-or-treat trail and explore Carnival Chaos.
Fort Wayne Children's Zoo
Address: 3411 Sherman Blvd, Fort Wayne
The award-winning Fort Wayne Children's Zoo is open through October. All the more time to explore their four rides throughout the park and interactive fun like feeding a giraffe and petting a stingray. It's no wonder they've been named "One of the Top Ten Zoos for Kids!"
Heritage Farm
Address: 4175 County Rd North 1200 W, Flora
Looking for a unique, educational and cost effective getaway? Heritage Farm in Flora, Indiana — about one hour north of Indianapolis — offers families an experience they won't soon forget. Heritage Farm is a working alpaca farm with more than 50 alpacas you can see, touch and interact with. Visitors can book an overnight stay at the 120-acre farm in one of the several different lodging options, or just visit for the day.
The Commons Playground in Columbus
Address: 300 Washington St, Columbus
The Commons Indoor Playground is located 45 minutes south of Indianapolis in Columbus, IN. This amazing indoor playground is free and open to the public. The indoor playground features infant/toddler areas, slides, a tunnel, and a two-story Luckey Climber.
Kidscommons
Address: 309 Washington Street, Columbus
Perfect For: Hands-on learners who like to have fun
Another Columbus, IN spot to check out is Kidscommons, a great children's museum that's the perfect spot to play and explore when you're in the mood for a little day trip out of town. Children can use their creativity to learn about their community at this children's museum in downtown Columbus.
Edge Adventure Park
Address: 11800 Koteewi Dr., Noblesville
Located at Strawtown/Koteewi Park in Hamilton County, Koteewi's Edge Adventure features 60 challenging treetop trails and zip lines that provide thrills for everyone at every skill level. Want even more adventure? Head to Edge Adventure's Rum Village in South Bend or Deep River in northwest Indiana.
Terre Haute Children's Museum
Address: 727 Wabash Ave., Terre Haute
The Terre Haute Children's Museum is a hands-on museum for families with three stories of fun and exploration. Located near the Indiana-Illinois border, this children's museum in Terre Haute features exhibits that encourage exploration of science and technology concepts, with dozens of exhibits that are designed especially for kids ages 12 months old to 12 years old.
Dougherty Orchard
Address: 1117 North, 9411 Dougherty Rd, Cambridge City
Dougherty Orchards is the oldest family owned apple orchard in the state of Indiana. Located in Cambridge City. Dougherty's grows 33 varieties of apples, as well as pumpkins, pears, and sunflowers. Dougherty's Petting Farm allows families to enjoy an up-close experience to view, feed, or pet a variety of farm and exotic animals while strolling around a large pond filled with beautiful large koi and ducks.