Habitat is a new way to explore the world around you by highlighting the unique habitats throughout the gardens and landscapes of Conner Prairie.
Habitats provide homes for all living things, from the tiniest ant to the tallest tree. The exhibition Habitat explores the critical need for varied habitats, how interconnected and fragile they are, and what we can do to protect them. The experience showcases the unique habitats throughout the gardens and landscapes of Conner Prairie.
Habitat was developed by Smithsonian Gardens and is made available by the Smithsonian Institution Traveling Exhibition Service.
Habitat Locations: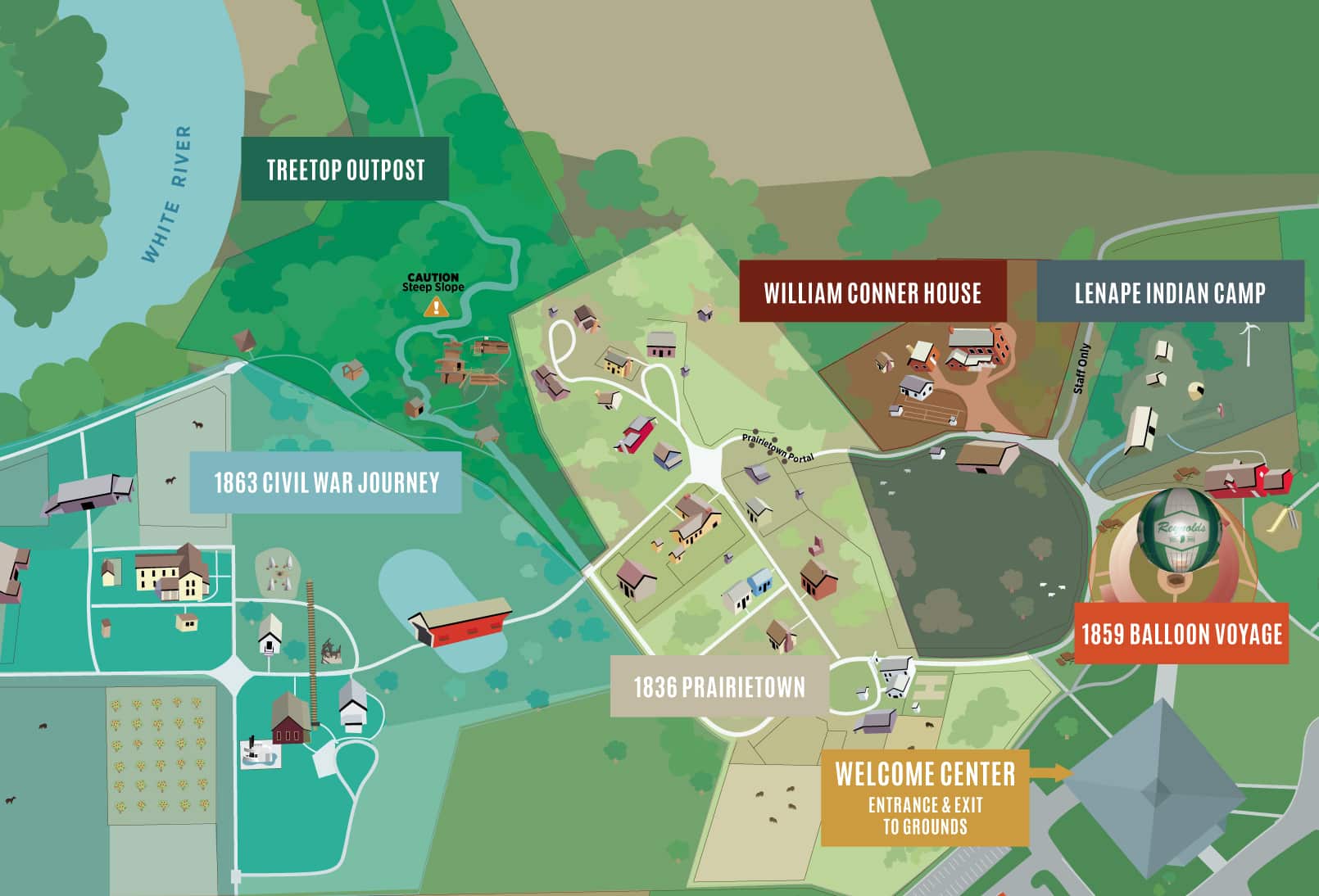 Five reasons to get excited for the newest outdoor Smithsonian exhibit!
1. Habitat illuminates the importance of sustainability
Get closer to our most valuable resources. Habitat inspires opportunities on how you can be sustainable leaders in your community.
As stewards of our 1,046 acres of natural habitat and over three miles of the White River, Habitat is a way for us to better understand the importance of habitats both here at home and around the world.
2. Local artists add their personal creative charm
Featuring 11 engaging installations, some are designed by local Indiana artists to create unique sculptural and interactive elements. Surround yourself within the artistic creativity dedicated to flight or gaze into the natural beauty of pollinators to better understand their importance on ecosystems.
3. Habitat is your own individualized experience
You will find Habitat installations throughout our grounds so there is something new to discover around each corner! Each discovery provides insight about global habitats and their connection to the Indiana story. What can we learn from these diverse habitats and how can we improve and protect our own habitats?
4. Education is the foundation for the Habitat experience
The Smithsonian Gardens combined rigorous scholarship and creative ingenuity to create Habitat. Our partnership with the Smithsonian is an impactful opportunity to showcase this world-class learning experience in Central Indiana.
5. Conner Prairie's role as a Smithsonian Affiliate
Habitat was developed by Smithsonian Gardens and was originally displayed on the National Mall in Washington D.C. It is now offered as a traveling exhibit through the Smithsonian Institute Traveling Exhibit Service. Conner Prairie's strong relationship with the Smithsonian as a Smithsonian Affiliate allows us to bring exhibits like Habitat to create engaging opportunities for our local community.