Are you seeking an adventure that involves sun, sand, and water? Or perhaps you're just looking for a refreshing dip to escape the summer heat? Look no further! Indiana's watering holes offer the perfect solution for thrill-seekers and those searching for tranquil relaxation. This comprehensive guide will walk you through the top five watering holes in Indiana that promise a mix of fun, adventure, and relaxation.
1. Pine Lake Waterpark & Beach
Located approximately two hours north of Indianapolis, Pine Lake Waterpark & Beach has been a cherished family-run enterprise since 1922. Offering a unique blend of a beach and a waterpark, Pine Lake promises a refreshing summer adventure for visitors.
Essential Information
Pine Lake Waterpark's location is 4640 W State Rd 218, Berne, IN 46711. It operates from Memorial Day Weekend to Labor Day, with timings from Monday to Saturday being 10 AM to 8 PM, and on Sundays from 12 PM to 8 PM. The entry fee for individuals aged 10 and above is $9; for those aged between 4 and 9, it's $7.
Attractions
The park features a variety of exciting attractions, including giant waterslides, classic log walks, and adrenaline-filled rides like the black hole and the drop slide. For the daring, the Jump Tower, with its 10ft, 20ft, and 30ft diving platforms, promises a thrilling experience. The Cable Ride or "The Zipline" offers a quick, exciting ride across the water.
2. Hidden Paradise Campground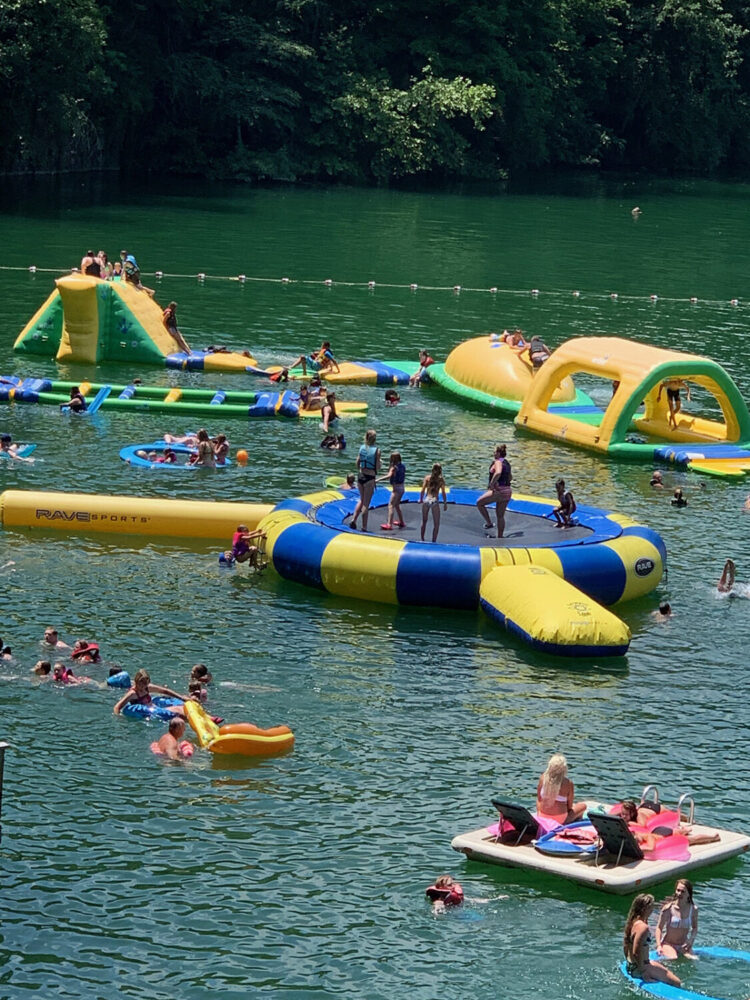 Just an hour away from downtown Indianapolis, Hidden Paradise Campground offers a family-friendly environment to indulge in the region's natural beauty. The campground's prime attraction is the spring-fed "Dream Lake."
Quarry Swimming and Inflatable Fun
The designated swimming area is equipped with inflatable fun elements such as a floating trampoline, obstacle course, jumping platform, and slide. Paddleboats are available for rental, and life vests are mandatory for all guests.
Quarry Day Pass Rates for Non-Campers
Day passes for Quarry Swimming are free for children under 4 years, $10 for children aged 4-12 years, and $15 for individuals aged 13 and up.
3. France Park
Nestled in the heart of Cass County, Indiana, France Park is a beautiful destination for outdoor enthusiasts and nature lovers alike. Boasting a wide range of recreational activities, the park is particularly well-known for its unique swimming opportunities. Visitors can enjoy a refreshing dip in the crystal-clear waters of the park's stunning quarry lake.
The quarry lake at France Park offers a serene and picturesque setting for swimmers looking to escape the summer heat. Surrounded by lush greenery and towering rock formations, the lake's turquoise waters provide a refreshing contrast to the park's woodland landscape. Swimmers can also enjoy the park's sandy beach area, perfect for sunbathing or picnicking after a swim.
4. White Rock Park
Located in Saint Paul, IN, White Rock Park is a quarry surrounded by cliffs, providing the perfect setting for cliff jumping, rope-swinging, ziplining, and more adrenaline-fueled activities.
Cliff Jumping and Swimming
The main lake is ideal for relaxing on a raft or cliff jumping for a thrill. There are four platforms to jump off, with the tallest being 10 meters. Lifejackets are required for all guests when going off jumps, ziplines, or the rope swing.
Day Pass Cost
The fee for guests aged 10 and up is $17 from Monday to Friday and $20 on weekends. Children aged 5 to 9 are charged $15 every day. Children under 5 enter for free.
5. Markle Park Swimming Pool
Located in the charming town of Markle, Indiana, the Markle Park Swimming Pool offers a fantastic spot for families and friends to enjoy a refreshing dip during the warm summer months. This well-maintained swimming pool provides a safe and clean environment for swimmers of all ages to cool off and have fun.
Day Pass Cost
An adult day pass is $5, and children swim for $3.
With these options in hand, you're sure to find your perfect summer getaway in Indiana. From adrenaline-pumping adventures to tranquil relaxation, Indiana's watering holes have something for everyone. So pack your swimsuits and sunscreens, and get ready to dive into the fun!