Pedal-powered railroad vehicles date back to at least the 1850's when maintenance workers used hand cars and 'rail bikes' to travel along the tracks. They were used to transport crew and materials for track inspection and repairs. Today, there are a variety of designs in use around the world.
Related Page: Amazing Train Rides In Indiana
In Bluegrass, Kentucky, ride the railbikes through thoroughbred farms, limestone cliffs, the Kentucky River and Young's High Bridge!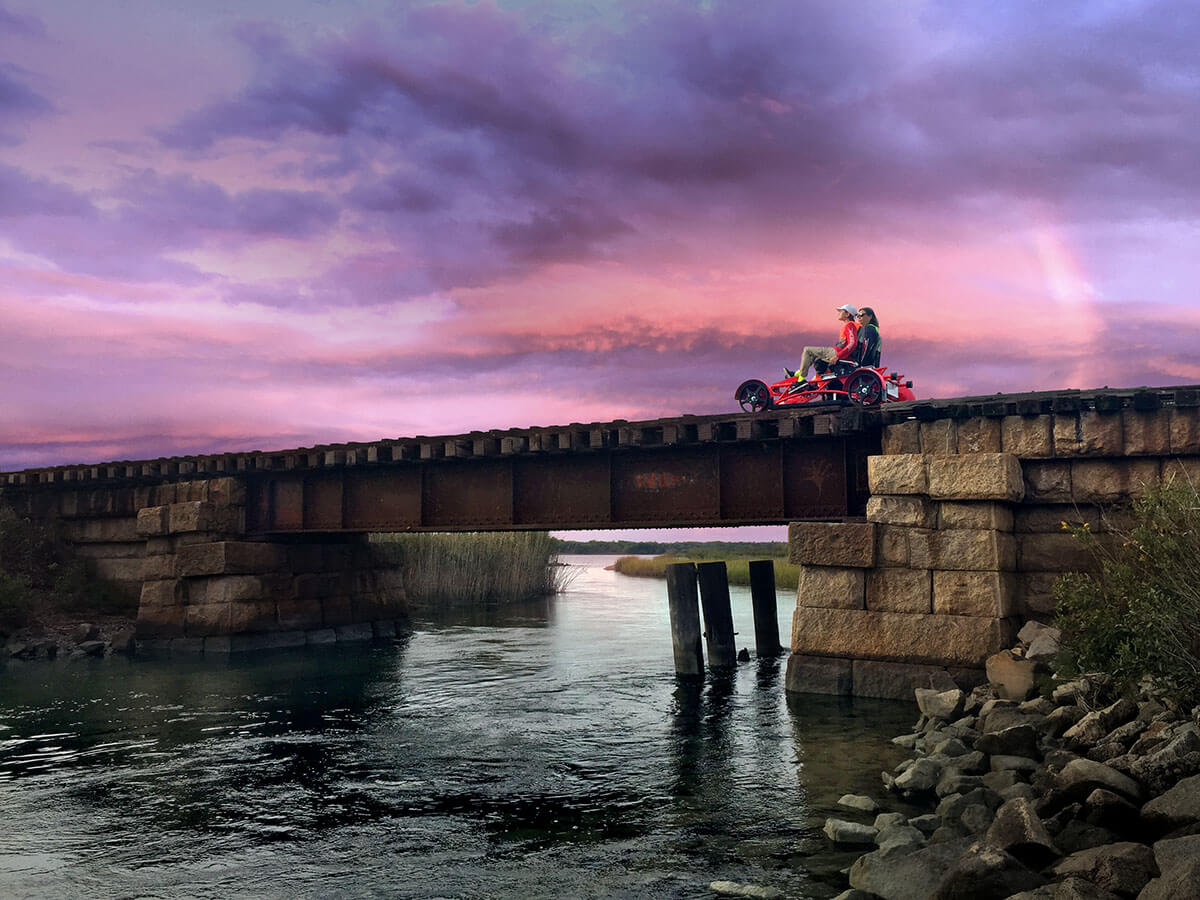 Bluegrass, Kentucky
The Bluegrass Division brings the 5 Star Rail Explorers Experience to the gorgeous countryside of Lexington Kentucky, the world's horse capital (it's the heart of Bourbon country too!). The new location is just 20 minutes from downtown Lexington, and only one hour from Louisville. Rail Explorers is working in partnership with the Bluegrass Scenic Railroad & Museum, founded in 1976 and tours run on the Louisville Southern Railroad built in the 1880s.
Related Page: LET'S GO TRAVEL: Family-friendly travel destinations around Indiana, the midwest, and beyond.
10-mile round trip
On this 10-mile round trip, you will pass thoroughbred horse farms where you may see mares and foals in the fields before descending into deep cuts through the limestone hills.
Bring a drink and snack to enjoy at the turnaround area on the cliffs above the Kentucky River gorge. Enjoy the view of the Wild Turkey Distillery and the 1,659 ft long Young's High Bridge soaring 283 ft above the river. All Explorers are fitted with the 'REX Propulsion System' – custom built electric motors that make the journey truly effortless.
Kentucky River Rambler Tour Pricing (10-mileround trip with electric pedal assist):
Tandem Explorer: from $90 (two riders @ $45pp)
Quad Explorer: from $160 (up to four riders @ $40pp)
10% discount for bookings of 10 or more (conditions apply)
Rail Explorers FAQs
Can children ride the rail explorers?
Yes! The explorers are easy to ride, and children are welcome. Children must be accompanied by a rider at least 16 years of age to operate the brakes. Groups of children can ride on their own explorer, provided it is coupled to an adult's explorer.
For safety, all riders must be secured in their own seat. The only exception is infants, who must be secured in a chest harness to an adult rider. Infants in a chest harness travel free. Younger children may not be able to reach the pedals but can be safely buckled in to enjoy the ride. We offer toddler harnesses for additional security for little explorers. It is not safe for children to be seated on your lap, and this is strictly forbidden.
How do the tours work?
All the rail explorers leave at the same time, with a tour guide in the lead and a tour guide in the last explorer. The group spreads out along the track so that there is up to 500ft between you and the explorers ahead and behind. This allows each group to enjoy the freedom of the outdoors and the magic of the railroad at their own pace and in their own space.
How can I pass a slower rider?
Passing is impossible – the aim is to enjoy the journey, not go as fast as you can. A slower rider in front means you will have more time to relax and enjoy the ride. Give other riders space – PLEASE DON'T TAILGATE!!!
What about riders coming the other way?
The tours are timed so that all explorers have reached their destination before they are turned around for the return trip.
What should I bring? Is there a place to put a bag or backpack?
Each rail explorer has a basket for bags and backpacks, cameras, phones or water bottles. There is also a deck under the seats where additional bags or coolers can be secured. Umbrellas are provided on all explorers in case of rain or to provide shade on hot days. During cooler temperatures, some riders bring a blanket to wrap up in!
Book your reservation for Rail Explorers Railbikes here!
Parking and check in for all tours at 175 Beasley Rd, Versailles, KY 40383.