When the weather outside is frightful, it's time to take the family on a delightful indoor adventure. Lucky for you, we've rounded up 11 incredible, free options that will guarantee hours of fun for the whole family. Get ready to beat the bad weather blues with these indoor activities that will warm your heart and lift your spirits.
---
Indoor Playgrounds
Location: 6590 S Indianapolis Rd, Whitestown
Hours: Wed-Thurs: 3 pm – 7 pm; Friday: 8 am-Noon & 1 pm – 5 pm; Saturday: 8 am-Noon; Sunday: 1 pm – 5 pm
The Park is every kid's dream. The expansive space is separated into zones, including a preschool play structure, a larger play structure for older kids, basketball courts, a rock climbing wall, and a quiet zone (perfect for kids with special needs who may become overstimulated).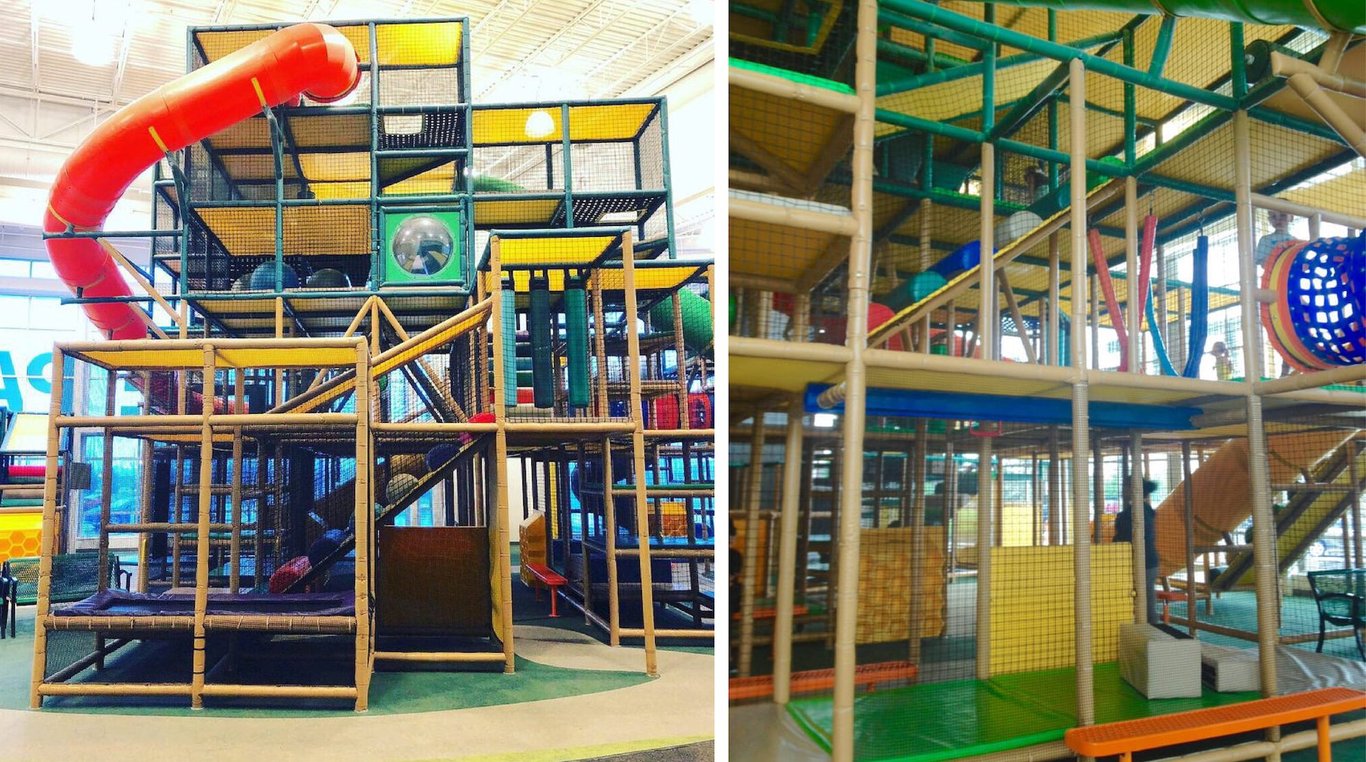 Location: 13450 E. 116th Street, Fishers
Hours: Monday – Friday, 9 am-1 pm; Sunday, noon-2 pm
This indoor playground offers plenty of climbing opportunities for the older kids and a separate area with toddler-friendly equipment, making it a safe and inviting space for all ages.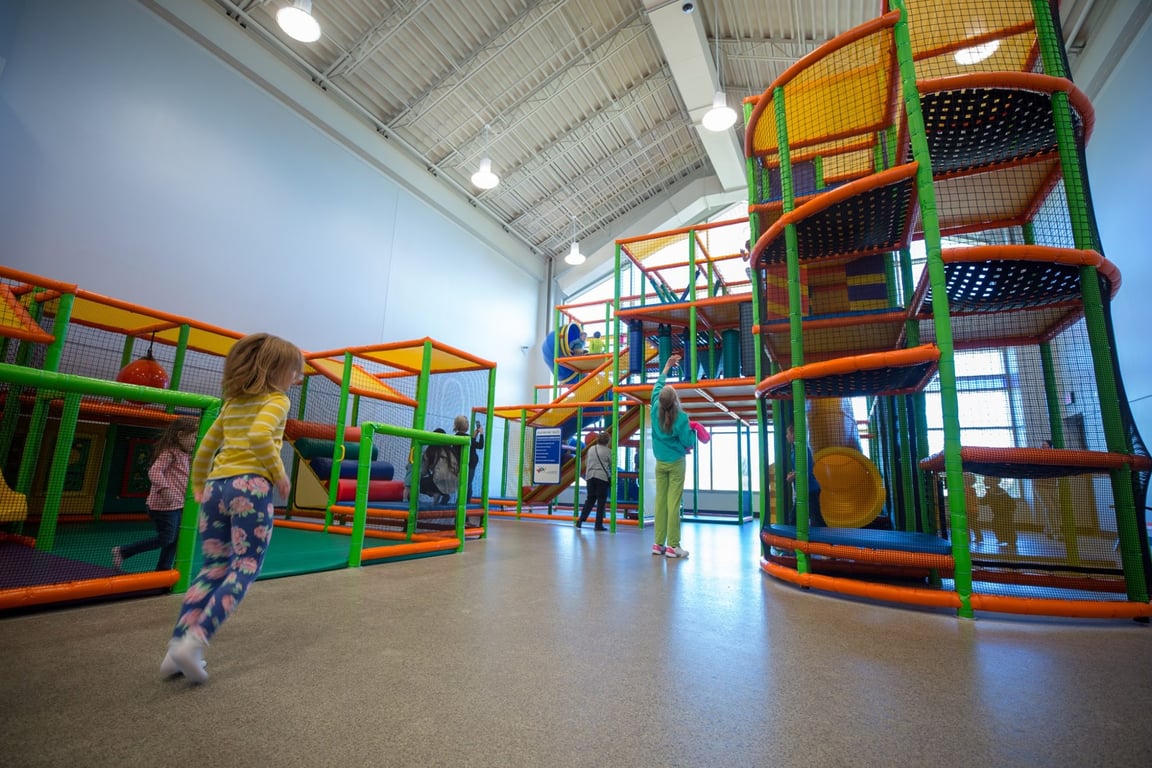 Location: 554 Pit Road, Brownsburg
Hours: Monday – Wednesday & Friday, 9:00 am – 1:00 pm; Monday & Friday, 5:00 – 8:00 pm
This indoor play area was made by an environmentally-friendly community using only re-purposed toys, furniture, and even carpet tiles. Best of all, it is free to the public and open to children of all ages. Everyone who comes to play will need to fill out a release form that can be completed out when you arrive, or online beforehand to save time.
Location: 800 Dan Jones Road, Plainfield
Hours: Tuesdays/Thursdays: 9–11 am or 1–3 pm
The Treehouse is only open to the public two days a week, but it is well worth the trip to see this beautiful indoor play structure that is bathed in natural light. Geared towards kids ages 2 to 12, it is designed to look like a whimsical tree with tons of space for kids to climb until they are ready to slide down.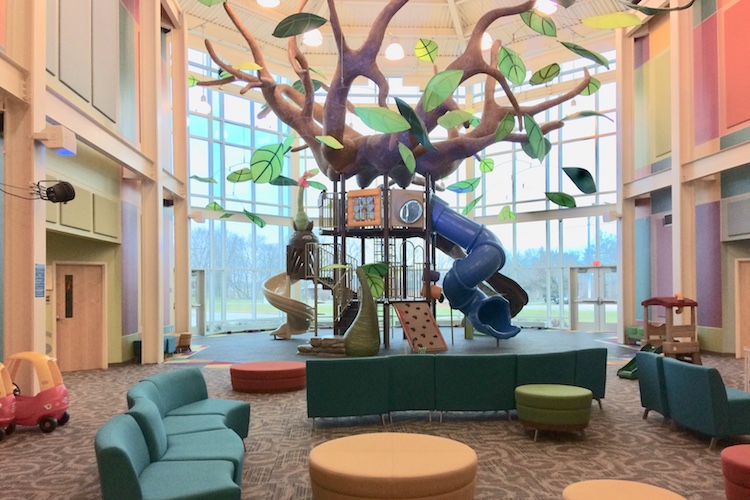 Location: 2301 Meridian St, Anderson, IN 46016
Hours: The PLAYZONE is open Monday-Sautrday from 10 am-6 pm.
The PLAYZONE is a fabulous new indoor playground located in Anderson at the Community Center @ AFC. It is 40 feet long, 27 feet wide and 24 feet high. 5 levels offer unique slides, climbing and more! To make things even better, PLAYZONE is free and open to the public six days a week.
Nature Centers
Location: 6363 Spring Mill Rd, Indianapolis
Hours: Monday – Saturday, 9:00 am – 5:00 pm
The dynamic exhibit in Habitat Hall includes the White River Water Table, Music of the Wetlands Exhibit, and an elevated Hardwood Forest viewing area allowing visitors to experience the forest canopy.
Location: 2000 E 151st St, Carmel
Hours: Daily, dusk to dawn
Families, school groups and nature lovers can explore the science of Indiana woodlands and learn about the importance of preserving plants and animals in their natural habitats in this 90-acre park.
Location: 250 N 5th Street, Zionsville
Hours: Tuesday – Saturday, 10 a.m. – 5 p.m. CLOSED Sunday & Monday
The former house that holds the Zion Nature Center is jam-packed with realistic sounds, facts, interactive exhibits, and live animals, making it interesting for kids and adults alike. The center boasts turtles, snakes, and amphibians on display- making it a wetland lover's paradise.
Museum & Libraries
Location: 8660 E 21st St, Indianapolis
Hours: Tuesday – Friday, 10:00 am – 3:00 pm
The Indiana State Police Museum collects, preserves, and presents the history of the Indiana State Police, focusing on the dedication of the department, connection with the community, and innovations made throughout the organization's existence. Admission is free. Donations are welcome.
Location: 40 E St Clair St, Indianapolis
Hours: Mon – Tue 10 a.m. – 8 p.m., Wed – Thu 10 a.m. – 6 p.m., Fri – Sat 10 a.m. – 5 p.m., Sun 1 p.m. – 5 p.m.
The Learning Curve is a high-tech, hands-on information environment designed for children. Children and their families can visit "The Curve" to develop the interpretive and critical thinking skills needed to gain a deeper understanding and knowledge of the information world.
Location: 425 E. Main Street in Carmel
Hours: Mon-Thurs: 9 am-8 pm; Fri: 9 am-6 pm; Sat: 9 am – 5 pm; Sun 1-5 pm
The Carmel Clay Public Library has reopened after completing a $40-million project to increase the size of the library and renovate existing spaces to serve Carmel's growing community better. Highlights of the project include a Digital Media Lab relocated from off-site, an expanded teens area, flexible meeting rooms, and a parking garage attached to the library by a sky bridge.
Looking for more fun things to do in Indy on a budget? Check out these guides: