For young and old alike, there's something magical about the twinkling of Christmas lights in Indianapolis during the season.
'Tis the season to be merry and bright! Celebrate this magical time of year with Indy's most luminous Christmas light displays and traditions. Here are a few of our all-time holiday favorites around the Indianapolis area. Check out our Indianapolis holiday fun guide for more ideas on what to do this holiday season.
So, bundle up, hop in the car and take a drive to see some of these remarkable Christmas light displays near Indianapolis.
Christmas Nights of Lights
Location: Indiana State Fairgrounds, 1698 E 42nd St., 46205 *Use gate 12 on 42nd Street*
Dates: November Nov 11, 2022 – Jan 02, 2023
Hours: Dusk until 10 pm
Cost: $30 carload special (up to 8 people)
Christmas Nights of Lights drive-thru light show is returning to Indianapolis for it's 3rd season. Prepare to be dazzled as you drive through an over 2–mile route that's full of colorful light displays set to holiday music, a 300-foot tunnel, a 240-foot wall of lights and more merriment, all from the comfort of your own vehicle!
Location: Indianapolis Zoo, 1200 West Washington St, Indianapolis
Dates: November 29 – December 30, 2022
Hours: Sunday-Thursday: 5-9 pm; Friday-Saturday: 5-10 pm
Cost: Included with general admission to the Indianapolis Zoo. Find daily ticket price here.
Lions, tigers, polar bears – and Santa Claus! Oh my! See the animals during the day and stay as the sun goes down – watch as the Indianapolis Zoo is transformed into a winter wonderland before your eyes. This Christmas tradition, now in its 53rd year, has added even more lights to fill the Zoo with a warm glow. And the best part is it's all included with regular admission!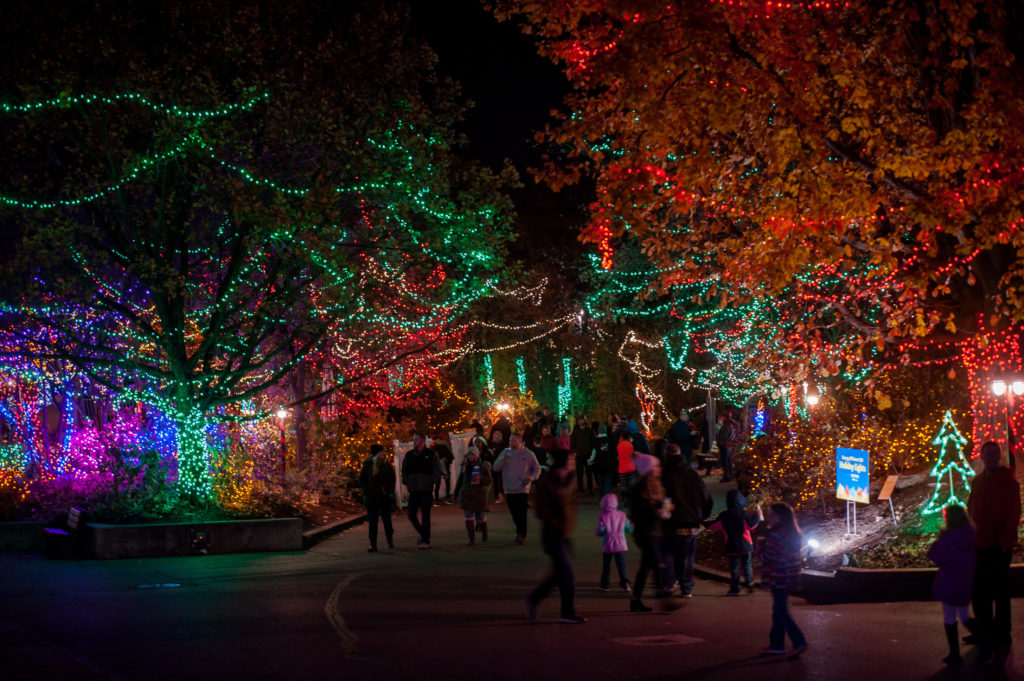 A Merry Prairie Holiday
Location: Conner Prairie, 13400 Allisonville Road, Fishers
Dates: Fridays-Sundays, November 25-December 18; and December 21 & 22
Hours: 5:30-9:30 pm
Cost: $22; Conner Prairie members can purchase tickets for a discounted price of $11
Sparkling lights, breathtaking rides, and enchanting performances. They're all part of A Merry Prairie Holiday Festival at Conner Prairie, and they're sure to be among your cherished winter memories for years to come. Enjoy the Conner Prairie holiday family fun you already love and a host of new features you won't want to miss.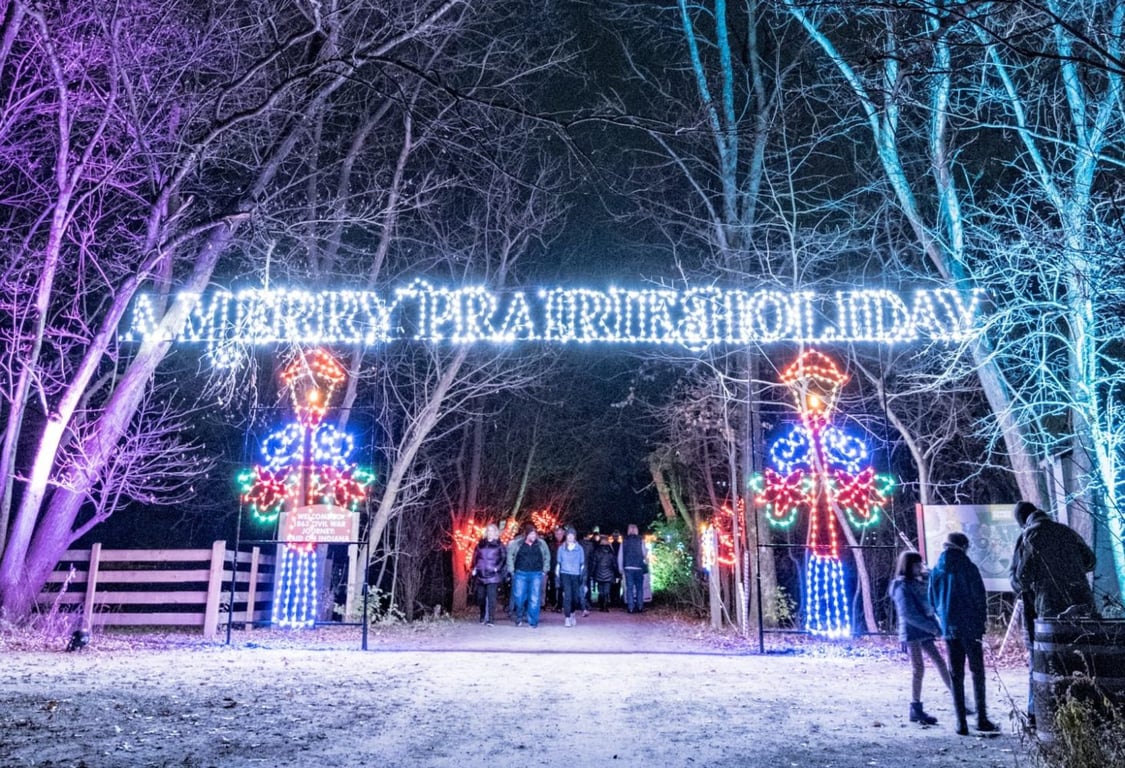 Magic of Lights at Ruoff Music Center
Location: Ruoff Music Center, 12880 E. 146th Street, Noblesville
Dates: Nov. 18, 2022 – Jan. 2, 2023
Hours: Monday-Thursday: 5:30-10 pm; Friday-Sunday: 5:30-11 pm
Price: Starting at $25 per car
Magic of Lights™ is a unique and dazzling drive-through holiday lights experience to celebrate the season. Pile everyone into the car and experience Magic of Lights from the safety and comfort of your own car as you wind through the sparkling path. At every turn, the magical route is overflowing with spectacular light displays that bring your favorite holiday themes and characters to life.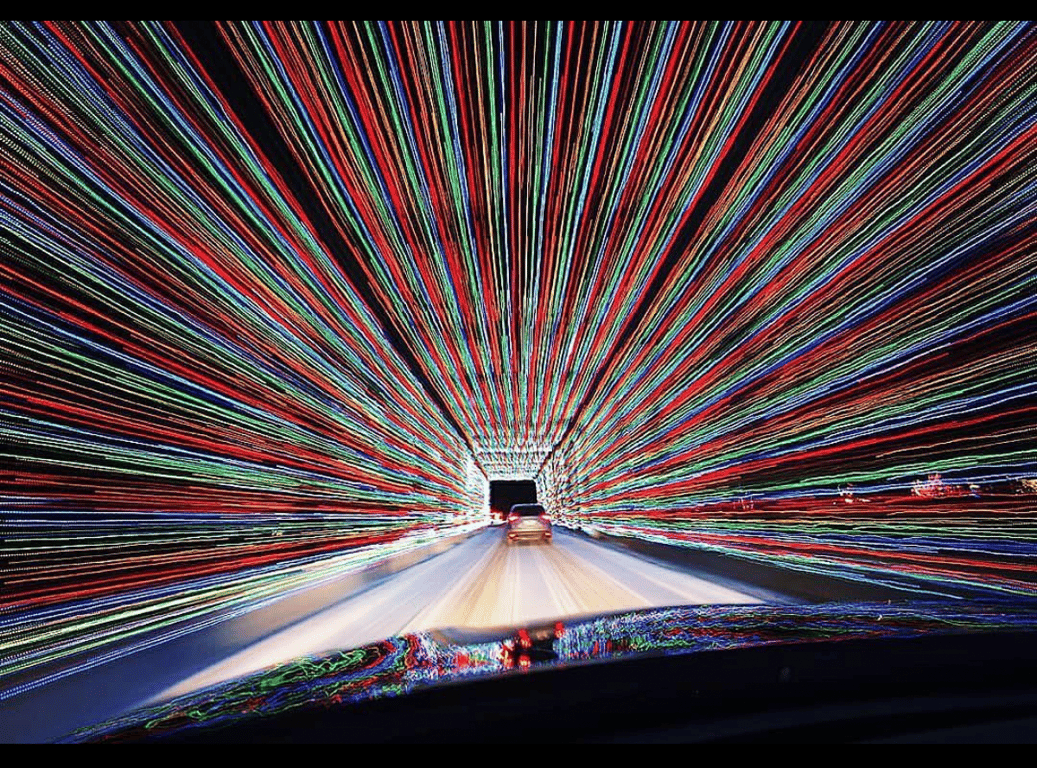 Downtown Indy Inc.'s Circle of Lights
Location: Monument Circle
Dates: The "Flip with Switch" on Nov. 27, 2022 at 7 pm. Shining a Light holiday presentation will continue nightly from Nov. 28 – Dec. 31.
Time: The "Flip with Switch" on Nov. 25 at 7 pm. After that catch nightly presentations at 6:30, 8 and 10 p.m
Cost: FREE
Downtown Indy Inc.'s Circle of Lights® presented by IBEW 481 is Indy's most time-honored holiday tradition. This year, the Circle of Lights event will take place on Monument Circle as well as a special made-for-TV event seen exclusively on WTHR Channel 13.
Dasher's Lightshow
Location: Castleton Square Mall, located at 6020 E. 82nd St, Indianapolis
Dates: Nov. 15-Dec. 31, 2022
Hours: 5:30-10:30 pm
Price: $29.95 per vehicle
Find tickets here.
A new Christmas light show coming to the parking lot of Castleton Square Mal for the holiday season. The Dasher's Lightshow will allow families from Nov. 25 – Dec. 31, 2022, to experience holiday lights in a more interactive and modern way than through traditional neighborhood displays. Families can connect their vehicle radio to a dedicated radio station and watch the roughly one million lights and displays dance and blink in sync with holiday music favorites.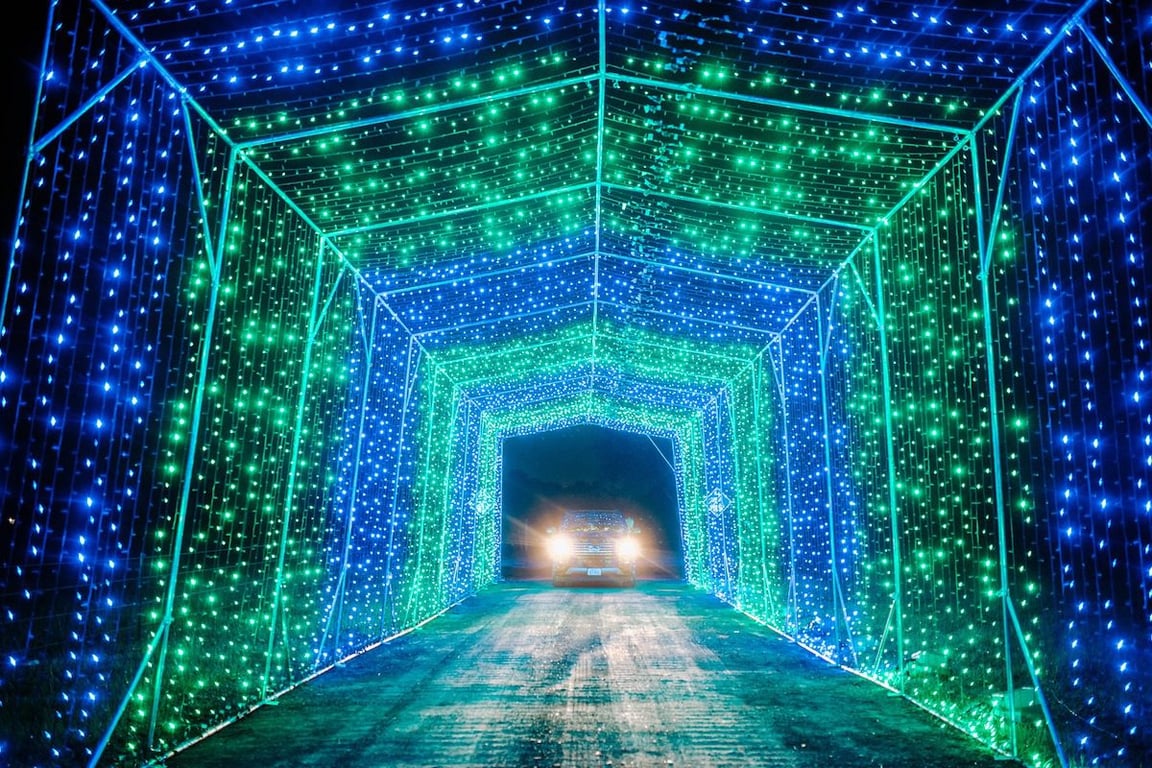 Winterlights at Newfields
Location: Newfields, 4000 N Michigan Rd, Indianapolis
Dates: Nov. 19, 2022-Jan. 8, 2023
Hours: 5-9 pm
Price: Tickets are $29-$22 for adults, $20-$15 for youth 6-17, and free for 5 and under. Tickets sell out fast, so get yours today!
For the sixth year, Winterlights will be returning to the gardens at Newfields for one of Indianapolis's favorite holiday traditions. The Garden at Newfields will once again feature more than 1.5 million sparkling Christmas lights at this outdoor walking experience, making it one of the best places in Indianapolis to get into the holiday spirit.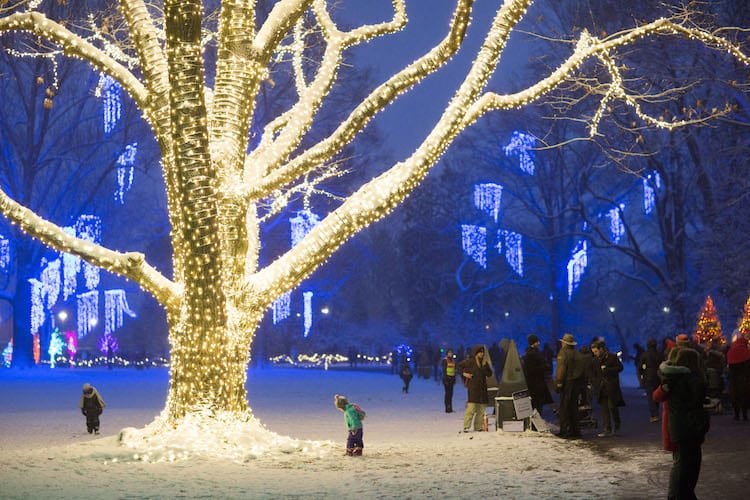 The Holiday Stroll
Location: Kelsay Farms, 6848 N 250 E., Whiteland
Dates: Nov. 25-Dec. 23
Hours: Open Friday-Sunday, 6-9 pm. And open weekdays leading up to Christmas, Dec. 19-23 from 6-9 PM.
Price: $8, children under 2 are free.
Kelsay Farms invites visitors to stroll through the farm during the holidays for a magical experience. Relax amongst the lights and the trees while sipping your hot cocoa by a warm campfire.
Holiday Lights at White River State Park
Location: White River State Park,
Dates: 2022 Dates TBD
Hours: Sunset to 11 pm *Based on 2021
Price: Free
White River State Park will celebrate the holidays with a special outdoor lighting display. Visitors can view the lighting display along the Canal, the Old Washington St. Bridge, and outside of the White River State Park Visitor Center from sunset to 11 PM.
The Lighted Trail
Location: Amphitheater Park, 300 S Washington St, Greenwood
Dates: Dec. 3-31
Hours: The lights will be on from DUSK til DAWN.
Price: Free!
Take a walk through the Amphitheater Park and take in The Lighted Trail! Get a selfie and make it a new holiday tradition to visit the park.! The lights will be on from DUSK til DAWN.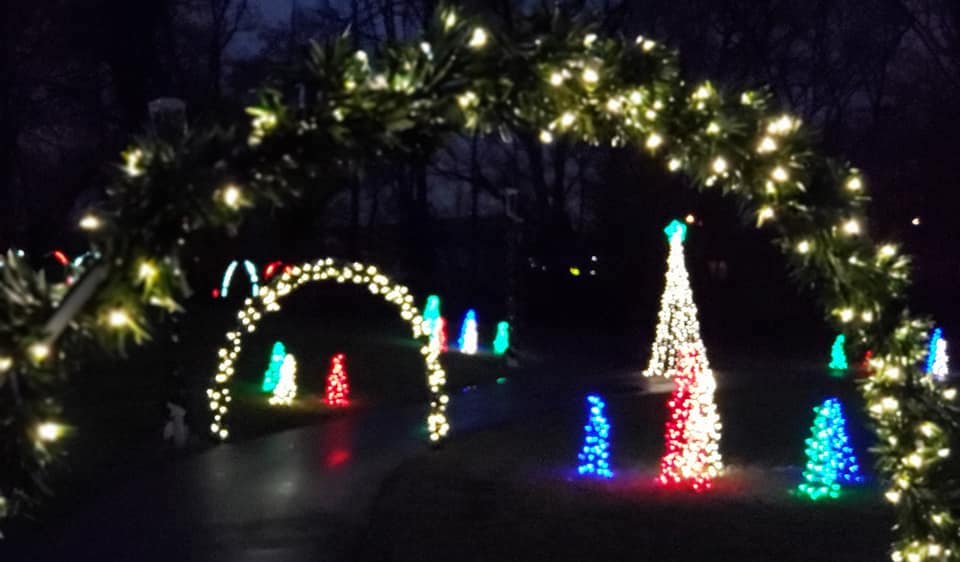 Danville Winterland Holiday Light Show
Location: Ellis Park, 600 E Main St, Danville
Dates: Nov. 18-Dec. 24 (closed on Thanksgiving)
Hours: Sun-Thurs: 6-9 pm; Fri-Sat: 6-10 pm
Price: $5-10/Car
Winterland Holiday Light Show in Ellis Park in Danville, Indiana, showcasing hundreds of thousands of lights in hundreds of displays to celebrate the holiday season. New this year, a 30-foot Christmas tree with lights synchronized to your favorite Christmas music.