What looks like an unassuming box, just a few cubic feet in size, is a life-saving container, a community connector, and an awareness raiser. And moreover, the Little Free Pantry has been a life-changing experience for Indianapolis resident, Elizabeth Friedland.
A few months ago, Elizabeth stumbled upon a Facebook post about a community project through the Future Farmers of America (FFA), where they were offering to build Little Free Boxes, most often seen as community libraries, but since the pandemic there has been an increase of Little Free Pantries. Elizabeth wasn't sure it would be a good fit for her neighborhood at first. "I live in Meridian Kessler — people don't think of that area as having need," she says. But once she did the research, she discovered that 11% of households in her ZIP code live at or below the poverty line. "Clearly there was a need, even if we didn't necessarily see it," she says.
"Clearly there was a need, even if we didn't necessarily see it." – Elizabeth Friedland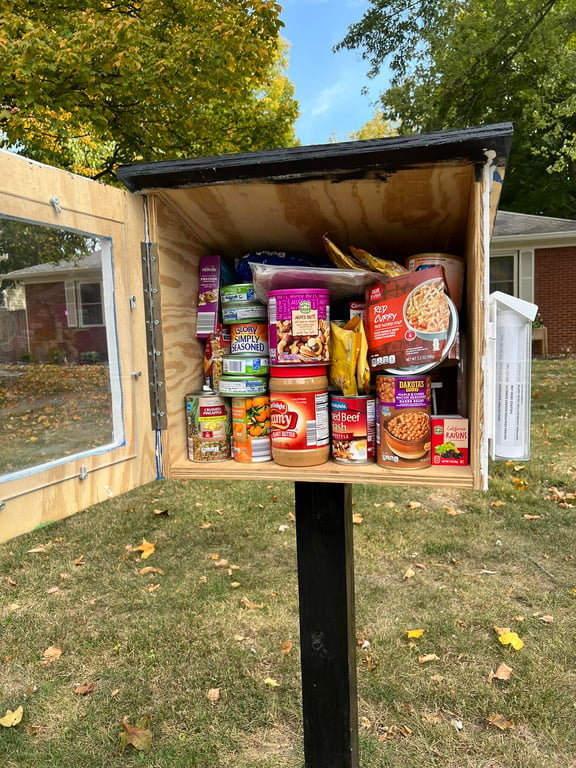 Armed with that information, Elizabeth and her 5-year-old son, Jack, opened their first Little Free Pantry just a few months ago. "Within the first 36 hours, we were empty," Elizabeth says. And since that first day, the need for food and personal supplies has continued.
In early September, Elizabeth opened a second location with the support of Cornerstone Lutheran Church. Forty percent of residents in that area make less than $25,000 per year. As opposed to a food pantry (also often run through churches), the Little Free Pantry is self-serve and open 24 hours per day, making it easier for community members with challenging work schedules to receive assistance.
Since embarking on this project, Elizabeth has researched issues of food insecurity and poverty, and strives to provide dignity and joy to anyone seeking assistance. She has added lighting so people can easily come at night, provides personal care items in addition to food, and loves when she can include luxury food items as a treat. Jack even stocks the pantry with toys and treats for the kids.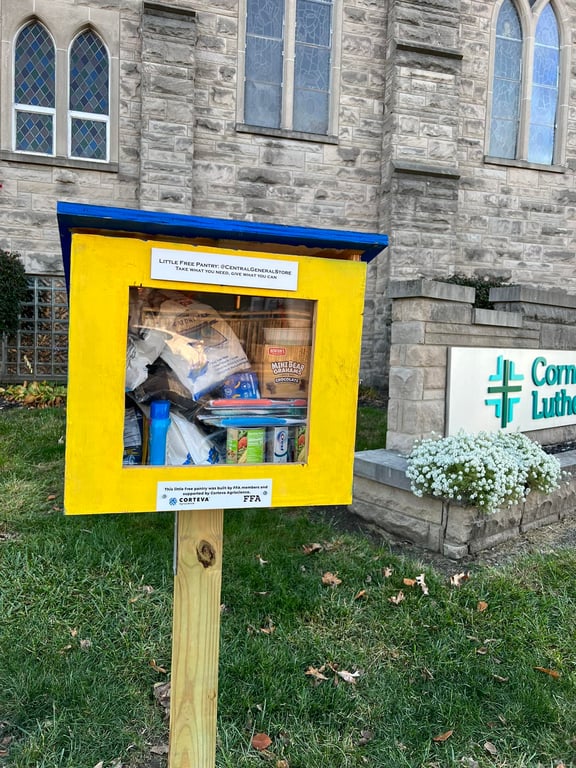 "Something that is really discouraging in our country today is the attitude of every man for himself — that if you need help, you've done something wrong," Elizabeth says. "Most people living below the poverty line are working; many of them have multiple jobs. No one wants to go to the pantry to get free food."
With 64% of Americans living paycheck to paycheck, many of us are just one financial emergency away from needing assistance. Initially, there was concern that people may abuse the privilege of the pantry and take more than they need, but that's not what Elizabeth has found. "There shouldn't be any conditions to getting food," Elizabeth says. "As a human being, living on this Earth, we all have a right to be fed."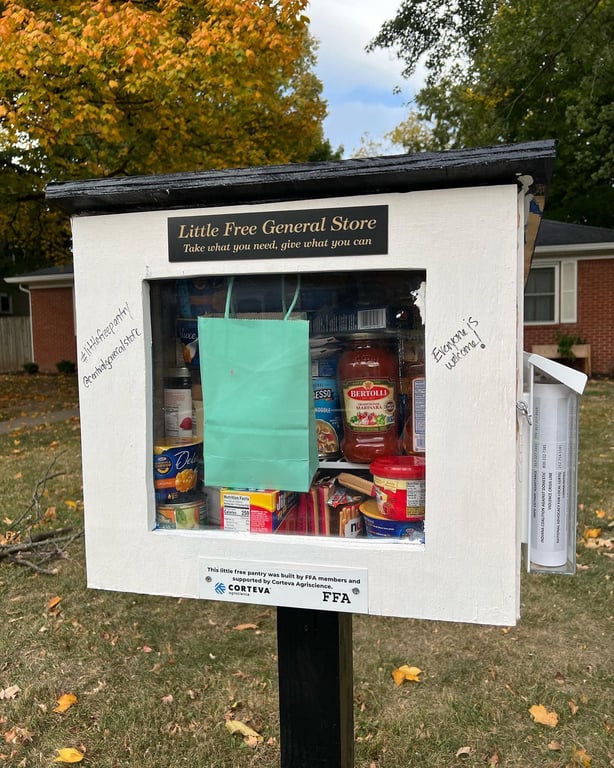 In the few months since opening, word of her two pantries have spread and Elizabeth compares managing them to a second job. She is always accepting donations to keep the pantries stocked, estimating it costs $600 per week to stock each pantry. As a solo Mom, she relies on the generosity of community members to offset that expense through contributions of food and personal care items, or financial donations.
If you're interested in getting involved, visit littlefreepantry.org for resources on how to open your own pantry, or find one in your area to support. Elizabeth recommends not only making sure your area has need, but that you have support from community members. "I may host the pantry," she says, "but it really belongs to the community."
If you'd like to support Elizabeth's pantries, you can follow her on Instagram at @CentralGeneralStore, help spread the word to community members about the pantries, bring donations to the pantry at Southeast corner of 52nd and Central Avenue, or to Cornerstone Lutheran Church at New York and Rural. Venmo donations are accepted at @CentralGeneralStore.