All Aboard! Calling all train lovers. The holiday season is approaching, and so are Holiday Train Rides. Make sure to book your tickets early as many of these festive train rides tend to sell out quickly!
Holiday Trains Rides near Indianapolis:
*Showing information for 2022.
Location: Nickel Plate Express | Noblesville
Dates: Nov 11-12, 18-19, 24-26; Dec 1-3, 8-10, 15-17, 21-23
Price: Standard group of two starts at $105, children under 3 are free. Find tickets here.
Experience a magical Christmas on an hour and fifteen-minute ride with Santa. Sing Christmas carols and sip hot chocolate while crossing over Morse Reservoir. The ride includes a cookie and gift from Santa. Adult beverages are available for purchase on board. Children 3 and under ride free on a parent's lap.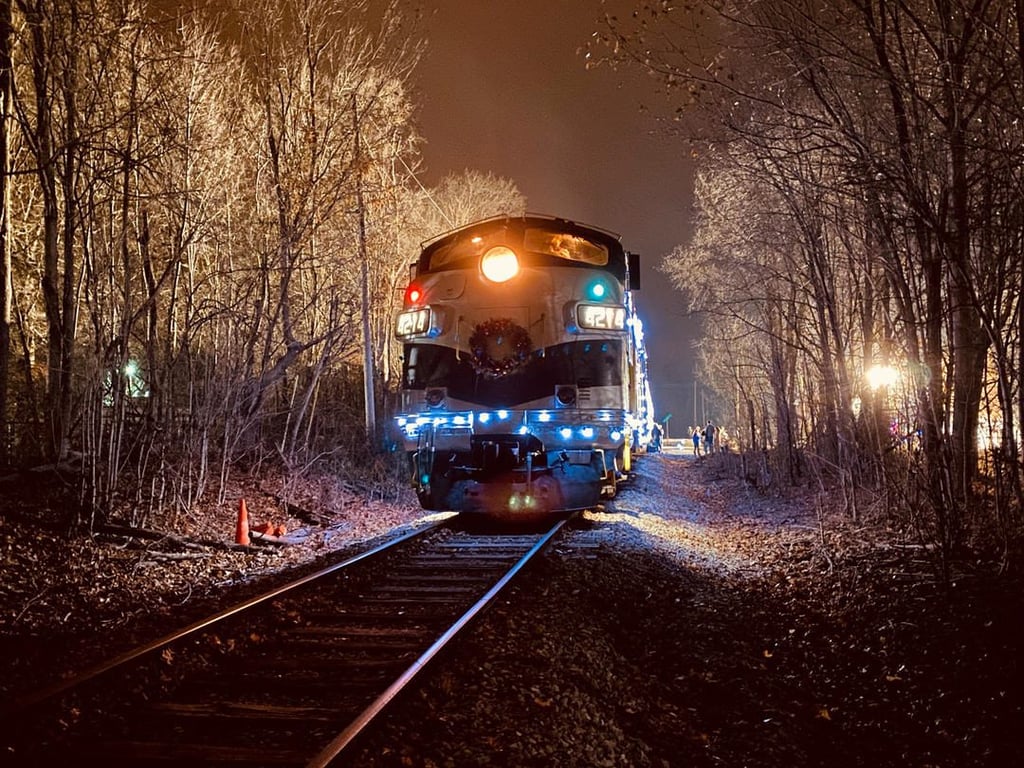 Location: Sullivan Hardware | Indianapolis
Dates: Tickets on sale Nov. 1, 2023
Price: $30 for a train ride only; $60-$75 for the train ride and stop to meet Santa
Take a trip to see Santa at the North Pole with the Sullivan Express. Check in at Central Station at the Keystone location, then enjoy a narrated train ride filled with surprise visitors.
Non-stop ticket: For $30, enjoy a non-stop train ride through the North Pole without meeting Santa.
Location: Indiana State Museum | Indianapolis
Dates: Nov. 24-Dec. 31, 2023
Price: Included with general admission to the Indiana State Museum. $13/child; $19/adult; kids under 3 are free. Purchase Tickets Here.
Take a 5-minute ride at the Indiana State Museum's Celebration Crossing. Encounter critters preparing for winter, scenes coming alive with movement and music, and an accessible train ideal for the whole family.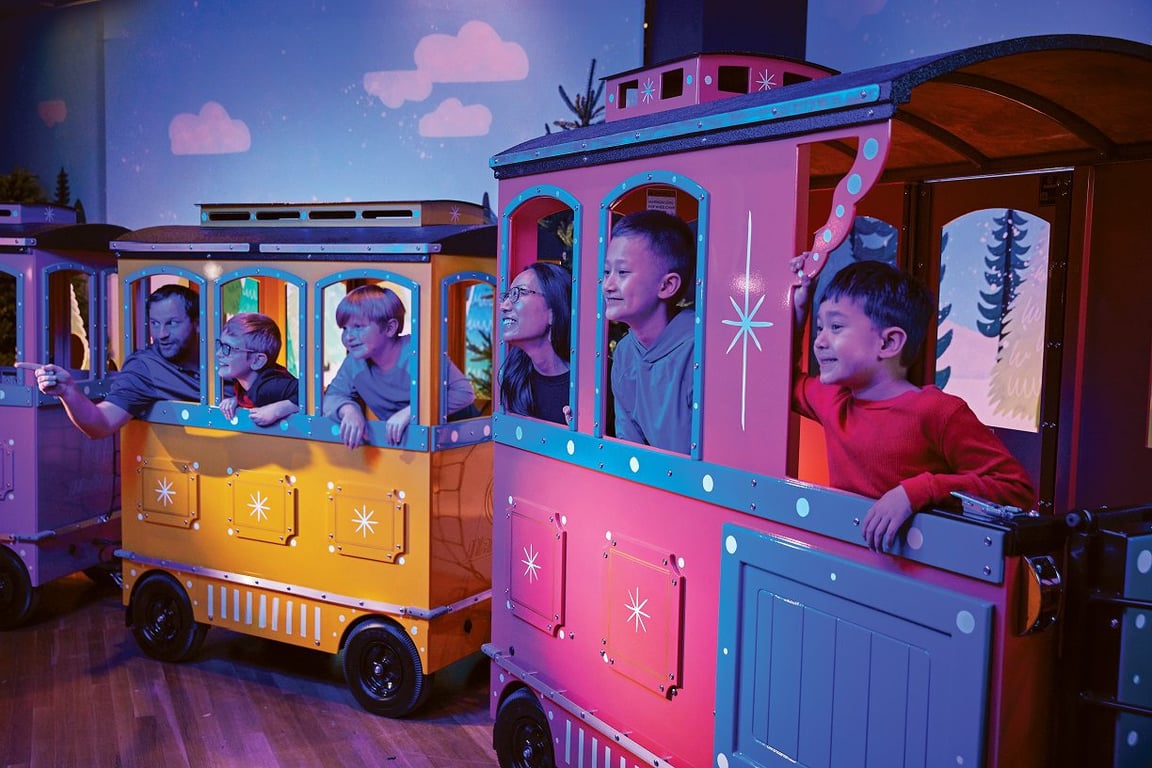 Holiday Train Rides in Indiana:
Location: Fort Wayne Railroad | Fort Wayne, IN
Dates: December 8-10 & 15-17
Price: Coach tickets range from $35-$45, first class tickets start at $85. Buy tickets here.
A new holiday tradition has arrived in Northeast Indiana! The Indiana Christmas Train ride will depart Pleasant Lake, Indiana for a magical 1.5-hour trip through the winter countryside with Saint Nick aboard! Choose from accommodations in Deluxe Coach, First Class, or charter a private Pullman passenger car for the entire family.
Upon your arrival at Santa's Station, you'll climb aboard his special diesel-powered train as the Jolly Old Elf takes a break from his holiday work to walk the train and visit with guests. Enjoy carols with our onboard musicians, savor a warm drink, and watch the countryside pass.
Location: Fort Wayne Railroad | Fort Wayne, IN
Dates: November 24-26
Price: $10, children 3 and under are free. Buy tickets here. Sign up for the waiting list here.
SOLD OUT: Sign up for waiting list here.
Take a 20-minute ride with Santa Claus or charter a private caboose. Due to demand, all tickets must be purchased online and ahead of time.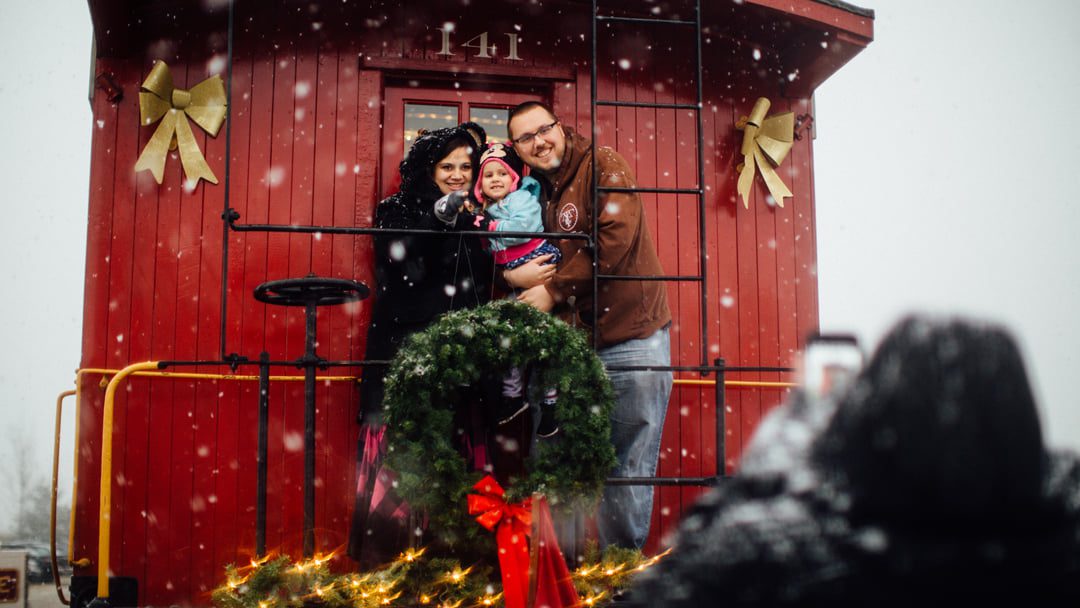 Location: French Lick Scenic Railway | French Lick, IN
Dates: Friday-Sunday from Nov. 3-Dec. 23; and December 20, 21, and 22.
Price: Tickets range from $35-$90. Children under 2 are free. SOLD OUT FOR 2023
Relive the classic story on an 80-minute trip to the North Pole. The conductor will punch your ticket before Santa and his helpers board the train to greet passengers. Each guest will receive the first gift of Christmas – a silver sleigh bell.
Location: Whitewater Valley Railroad | Connersville, IN
Dates: Fri-Sun Nov. 10-Dec. 16
Price: Tickets are $45 per person ages 2 and up. Purchase Tickets Here.
Embark on a journey from Connersville's Grand Central Station to the "North Pole" with Santa Claus on board. Enjoy hot chocolate and a cookie while listening to the Polar Express story.
BONUS: 4 More Holiday Train Rides Very Close to Indiana
Because holiday train rides are very popular, we have added some great experiences just outside Indiana that are worth visiting.
Location: LM&M Railroad | Lebanon, OH
Distance from Indianapolis: 2 hours
2023 Dates: Nov. 17-19, 25-26, Dec. 1-3, 7-10, 12-23
Price: Tickets range from $25-$40.
The North Pole Express, operated by the LM&M Railroad, is a magical event where everyone can experience the wonder of the holiday season as they journey down the train tracks of Warren County, Ohio. Passengers spend time with Santa and his elves on the 1 Hour & 15 minute journey to the North Pole. Train cars are decorated with holiday lights and decorations, adding to the cheer found throughout the event.
Location: Hocking Valley Scenic Railway | Nelsonville, OH
Distance from Indy: 3.5 hours
Dates: Saturdays and Sundays from Nov. 25-Dec. 17
Price: Adult: $24; Child: $19. Purchase Tickets Here.
Ride along the historic Hocking River Valley, where each train has Santa on board. Enjoy heated coaches decorated in holiday attire and listen to Christmas music throughout the journey.
Location: Blackberry Farm | Aurora, IL
Distance from Indy: 3.5 hours
Dates: Thursdays-Sundays Nov. 30-Dec. 17
Price: $10. Purchase tickets online starting November 9.
Explore various holiday-themed activities at Blackberry Farm, including Santa's station, vintage toy and stocking stuffer displays, holiday lights, and festive train rides.
Location: My Old KY Dinner Train | Bardstown, KY
Distance from Indy: 2.5 hours
Dates: Nov. 18, 19, 26. Dec. 2, 3, 10, 17, 22
Price: Adult: $79; Child: $53. Purchase tickets here.
Immerse yourself in a vintage holiday experience with a three-course meal on a fully renovated dinner train. Enjoy a 105-minute ride through the Kentucky countryside, with Santa and Mrs. Claus visiting each train car for caroling and storytime.
Upcoming Holiday Train Rides: