Time for summer festivals in Indianapolis. From festival food to fair rides to celebrating the amazing heritages that make Indy the cultural mecca it is: It wouldn't be the warm-weather season without a smattering of festivals, feasts, and fairs.
Here's a roundup of our favorite summer festivals in Indianapolis on deck for 2019!
What is it? A monthly gathering of food trucks from around the greater Indianapolis area in one location, presented by Leinenkugel. Plenty of tastes to choose from and includes kid-friendly activities too.
Admission: $5; Free for children under 5
Location: Old National Centre Parking Lot, downtown Indy
Dates: First Friday of the month; May 3, June 7, July 4, Aug 2, Sept 6
What is it? A 2-day celebration of art, family, and fun on the grounds of the Indianapolis Art Center in Broad Ripple. Patrons can enjoy 2-day admission to incredible art, live music, and performances on two stages, fantastic food, Sun King Brewing Company beer and Mallow Run Winery wine, artist demonstrations, and interactive art activities for people of all ages!
Admission: Adults: $13(advance) $15 (at the door), Children 3-12: $3 (advance) $5 (at the door), children under 3 are free.
Location: Indianapolis Art Center, Broad Ripple
Dates/times: May 18-19; Saturday, May 18, 10 am-6 pm, Sunday, May 19, 10 am-5 pm
What is it? An opportunity for families to learn more about programs at Hamilton County Sports Complex while having a blast.  Make sure to visit all the local vendor booths and enjoy all the fair foods. They have giveaways, free games and activities for all ages and much, much more!
Admission: FREE!
Location:  Hamilton County Sports Complex
Date/time:  May 18, 11:00 am- 3:00 pm
What is it? This is a GRAND celebration to kick off the start of summer. This one-day event consists of a Dodgeball Competition, vendor area, kite-flying, health fair and a Family Adventure Course that stretches over 1.3 miles of Grand Parks 400-acre campus. This event is FREE to the public, with the exception of registration for the Dodgeball Competition and Family Adventure Course.
Admission: Free, there is a fee involved with the Dodgeball Competition and Family Adventure Course, you can find more info on their website.
Location: Grand Park Sports Complex, Westfield
Date/Time: May 24; 3:30-8:30 pm
What is it? Celebrate Juneteenth at the Eiteljorg with music, performances, demonstrations, food and fun for the entire family. Juneteenth, or Freedom Day, is a holiday commemorating the announcement of the abolition of slavery in Texas in June 1865. In honor of Juneteenth, the celebration and museum admission will be free for all.
Admission: Free, plus free admission to the Eiteljorg Museum
Location: Eiteljorg Museum
Date/time: June 1, 11:00 am- 4:00 pm
What is it?  A two-day music festival with live music, workshops, open stage, jamming, instrument "petting zoo," and more. Bring a folding chair and join in the fun!
Admission: Festival is free, but parking is $5.00- $6.00.
Location: Eagle Creek Park
Dates/time: June 8-9, Saturday 1:00- 8:00 pm, Sunday 12:00- 7:00 pm
What is it? Each year on the second Thursday in June, strawberry lovers descend on the Soldiers and Sailors Monument for the annual Christ Church Cathedral Strawberry Festival On The Circle. More than six tons of strawberries and 18,000 homemade shortcakes will be served to over 20,000 visitors. Enjoy The Works dish which includes traditional strawberries, ice cream and whipped topping on a shortcake biscuit for $7. While supplies last. Cash only.
Cost: Free! ($2- $7 for food)
Location: Monument Circle, downtown Indianapolis
Dates/time: June 13, Carry out begins at 8:30 a.m., entertainment starts at 10 a.m. The festival ends at 4:00 p.m. or until they run out of supplies.
What is it? One of the city's most-loved and most-attended church festivals, dedicated to celebrating the Italian heritage. Includes Italian food, live music and amusement rides.
Admission: The Italian Street Festival does not require a ticket for admission or to enjoy any of the entertainment acts. Food and beverage purchases require a food ticket which are $1 per ticket (cash only), with most food items costing 3 to 5 tickets. Ticket booths are located throughout the festival grounds. The carnival rides take cash and are independently operated.
Location: Our Lady of the Most Holy Rosary, downtown Indianapolis
Dates/times: June 14-15, 5:00-11:00 pm on both nights
What is it? With over 270 artists from across the nation, this art fair continues to be ranked as one of the finest fairs in the country. It's located in the historic Herron-Morton Neighborhood and is a family-friendly event with plenty to see and do for everyone.
Admission: FREE!
Location: Between 16th & 20th / Delaware & Pennsylvania
Dates/times: June 15-16; Saturday, June 15 – 10 AM – 6 PM, Sunday, June 16 – 10 AM – 5 PM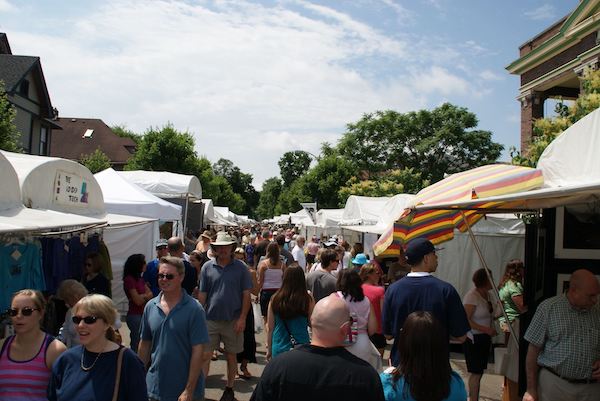 What is it? "Meet You at the Marion County Fair". Fairgoers are invited to enjoy a variety of attractions including a petting zoo, live music and entertainment, queen and princess pageant, 4-H exhibits, family arts exhibits, 4-H animal competitions, fireworks (opening night), Dino-ROAR interactive dinosaur exhibit, first bite fishing tank, bear hollow chainsaw carving demos, K9 frisbee dogs, princesses and superheroes, the midway, fabulous fair food, and much more for the entire family!
Admission: $5, adults; free, children 5 and under and those with military ID; $25, season pass. Parking is free.
Location: Marion County Fairgrounds
Dates/times: June 21-30
What is it? Experience a one-of-a-kind cultural experience full of family activities, cultural demonstrations, shopping, Indian tacos and buffalo burgers, and entertainment by renowned Native performers. Visitors are also encouraged to stop by the widely popular Dogs: Faithful & True exhibit.
Admission: Adults 18 and older: $15 at the gate; Youth 17 and under: FREE; Members are free.
Location: Eiteljorg Museum
Dates/time: June 22-23; 10:00 am- 5:00 pm
What is it? This free, family-friendly event brings the sights, sounds, and tastes of all the different cultures of Asia in one festival marketplace. Korea takes the center stage this year as the featured country with special exhibits and displays.
Admission: Free!
Location: Indiana State Museum/Downtown Canal
Date/time: June 23, Noon- 5:00 pm
What is it? A full-day event that kicks off with a parade, includes live bands, music, microbreweries and games. Also, includes a fireworks show at the end!
Admission: Free!
Location: Craig Park, Greenwood
Date/time: June 29, 12pm-11pm
What is it? Spark!Fishers kicks off on Friday night and continues with an all-day celebration on Saturday in Fishers' Nickel Plate District and Municipal Complex celebrating our vibrant community while honoring our freedom.
Admission: Free
Locations: Downtown Fishers
Dates: June 28-29
What is it? An annual family-friendly event that features fireworks, music, games, a 5k fun run and vendors. So bring your chairs, blankets (don't forget the family), and come on out to enjoy a fun time!
Admission: No Admission Fee. $5 parking charge.
Location: Kingsway Christian Church/School, Avon
Date/time: June 29, 4:00 pm
What is it? A family-friendly celebration of our country's birth through entertainment, live music, a 5K run/walk, parade and kids zone. The spectacular Carmel Symphony will also perform on one of the 3 entertainment stages. This event ends with a spectacular fireworks display.
Admission: FREE
Location: CarmelFest is located at Civic Square, Southwest of S. Range Line Road and North of Carmel Drive.
Dates/time: July 3-4; July 3: 3:00- 10:30 pm; July 4, 10:30 am-after fireworks *Fireworks start at 9:45 on July 4th.
What is it? Expect great food, fun activities for the kids and family, and plenty of local retailers, car show and live entertainment! Make sure you give yourself plenty of time to check out our FREE Kids Zone with tons of activities for kids of all ages! Bounce houses, face painting, balloon artists, corn hole, giant slides, bungee jumpers, human foosball and SO MUCH MORE!
Admission: Free
Location: Grand Park
Dates: July 4, 2:00-10:30 pm
Cream Social on the Circle
What is it? Events include concerts featuring local artist, chefs table featuring Indianapolis's finest chefs, food from local vendors and restaurants, and an assortment of activities for the entire family.
Admission: $8.00, Kids 6 and under are Free
Location: Monument Circle
Dates/time: July 6, 11:00 am- 9:00 am
What is it? This county fair includes rides, games, food, parade, pageant, livestock auction and more.
Location: Johnson County Fairgrounds
Dates/time: July 14-20
What is it? As one of the oldest festivals in the state of Indiana, the St. Christopher Mid-Summer Festival has held it's 3-day event every year with the exception of 1942 when the United States entered World War II. The Festival has grown to be one of the largest events in Speedway, after the many fantastic events at the Indianapolis Motor Speedway. You will find food, carnival rides, games and lots of entertainment at this fair.
Admission: The festival is free to attend, but rides, games, and food all have independent costs. Click here to view the attraction ticket pricing
Location: Saint Christopher Catholic Church in Speedway 
Dates/times: July 25-27; Thursday, July 25: 4 pm – 10 pm, Friday, July 26: 4 pm – 11 pm; Saturday, July 27: 12 pm – 11 pm
What is it? Throughout the 17-day event, slated for August 2 -18, the Indiana State Fair will salute Hoosier farmers, first responders, educators, members of the Armed Forces, and many others who keep us safe and make us proud. The Fair will celebrate our nurturers, protectors, guardians and guides. Additionally, each day during the fair, Super Heroes featured in box office movies will be highlighted.
Admission: $8 for advanced admission. Click here to get tickets. $13 at the door. Children under 5 are free.
Location: Indiana State Fairgrounds, Indianapolis
Dates/times: August 2-18; Sunday-Thursday: 9 am-9 pm; Friday-Saturday: 9 am – 9:30 pm *Opening Day Friday, August 2: am– 9:30 pm
What is it? Celebrate the history of Broad Ripple with a 4-day festival featuring activities for the entire family. The event features carnival rides and games, food and drink, a craft beer garden, live entertainment and community booths. A history exhibit provided by Broad Ripple Gazette will be on display and Saturday will feature an artisan flea market. The Broad Ripple Carnival is dog friendly too!  Just please have your dog on a leash in the park at all times.
Admission: Admission is free, but the rides and games do cost a ticket. Tickets which you can purchase for $1.50 each. Or wristbands can be purchased for unlimited rides and games. (Day: $15; Evening: $20)
Location: Broad Ripple Park
Dates/times: Aug. 8-11; Thursday, August 8, 6 – 9 pm, Friday, August 9, 5 -9 pm, Saturday, August 10, 12 – 9 pm, Sunday, August 11, 12 – 7 pm
What is it? Try authentic Greek cuisine, Greek wines, and fresh pastries, many of which are only available once a year at GreekFest. Visit the open marketplace and bookstore, enjoy live Greek music, Church tours, dance performances, children's activities, and more.
Admission: Free
Location: Holy Trinity Greek Orthodox Church
Dates/times: August 23-25
What is it? The Feast of Lanterns is a historic festival based on the Near Eastside of Indianapolis. This festival includes live music, artisan vendors, food trucks and lots of beautifully floating lanterns.
Admission: Free
Location: Spades Park
Dates/time: August 24, 4:00- 11:00 pm
What is it?  A special exhibit of sleek motorcycles, retro cars, and sweet trucks.  In addition to one-of-a-kind cars, motorcycles, and art, everyone is invited to stroll the District and enjoy a variety of refreshments, music, restaurants and art galleries.
Admission: FREE!
Location:  Carmel Arts and Design District, Main Street and Rangeline Road
Dates:  August 24; Noon-5 pm
What is it?  A true taste of Latin America right in your community! Get a feel for authentic Latin culture with delicious food, lively music, and festive dancing! There is also a kids zone for children.
Admission: FREE!
Location: Asa Bales Park
Date/time:  August 24, 4:00-7:00 pm
---
These are just a few of the fairs, feasts and summer festivals in Indianapolis happening this year – what are your favorites? Send us a tweet at @indyschild and let us know! (Or if you're out enjoying the fun, tag us on Instagram at @indyschild and we may repost your pics!)