Flat Fork Creek is one of the newest of the Fishers Parks. If you've been following Indy's Child you already knew that. You read about it back in December here. Even if you didn't read our last post, you might have at least heard about the amazing sledding hill while snow was still on the ground a few months back. We gave you all the details back then, so you also know that Flat Fork Creek offers an amazing hiking/biking/jogging trail. It's true!
---
---
But with Indiana's frigid winters, we really couldn't do the place justice with picutres back then. So now that the weather has turned, we will not only remind you that it's complete with 3 treehouses at Flat Fork Creek  for exploring, and several obstacle items along the side of the walkway to challenge your balance and agility; we'll show you.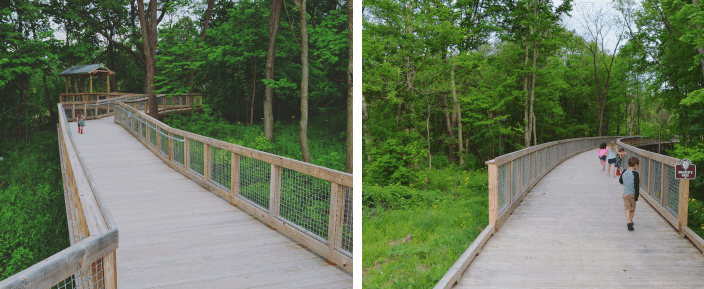 My suggestion if you're looking to blow off some energy during the warmer weather is to head out and play Tarzan! Or my personal favorite: capture the flag! (Flags and squirt guns not provided so bring your own!).
If you're not into tree-based make believe you can head down to the lake for some good ol' fashion fishing (make sure to pick up your fishing license first!) or rock skipping.
Then head over to the wildflower fields and take home a bouquet to your sweet heart, or in my kids' case: mommy.
So here are the details you'll need to know: 
Flat Fork Creek Park is located at 16141 E. 101st Street in Fishers. The park is open from dusk to dawn and has great parking and gray bathroom amenities. You can also visit fishers.in.us/PARKS for more information.
---
[luis]