A fun girls' night out to Beef and Boards Dinner Theatre left me with a heart full of holiday spirit – PLUS – some good news, not-so-good-news, and better news to share:
THE GOOD NEWS
The Beef & Boards production of "It's a Wonderful Life" (based on the classic Frank Capra movie starring Jimmy Stewart and Donna Reed) was just delightful. Logan Moore as George Bailey and Don Farrell as his guardian angel, Clarence, were standouts in a strong cast that brought the heartfelt story to life. I loved seeing theatre owner Doug Stark as pharmacist Mr. Gower, Karen Pappas bringing her signature sparkle to Ma Bailey, Bill Book as sweet-yet-bumbling/stumbling Uncle Billy, and my theatre buddy Dan Scharbrough playing against his natural "heart of gold" disposition as the greedy villain of the story, Mr. Potter!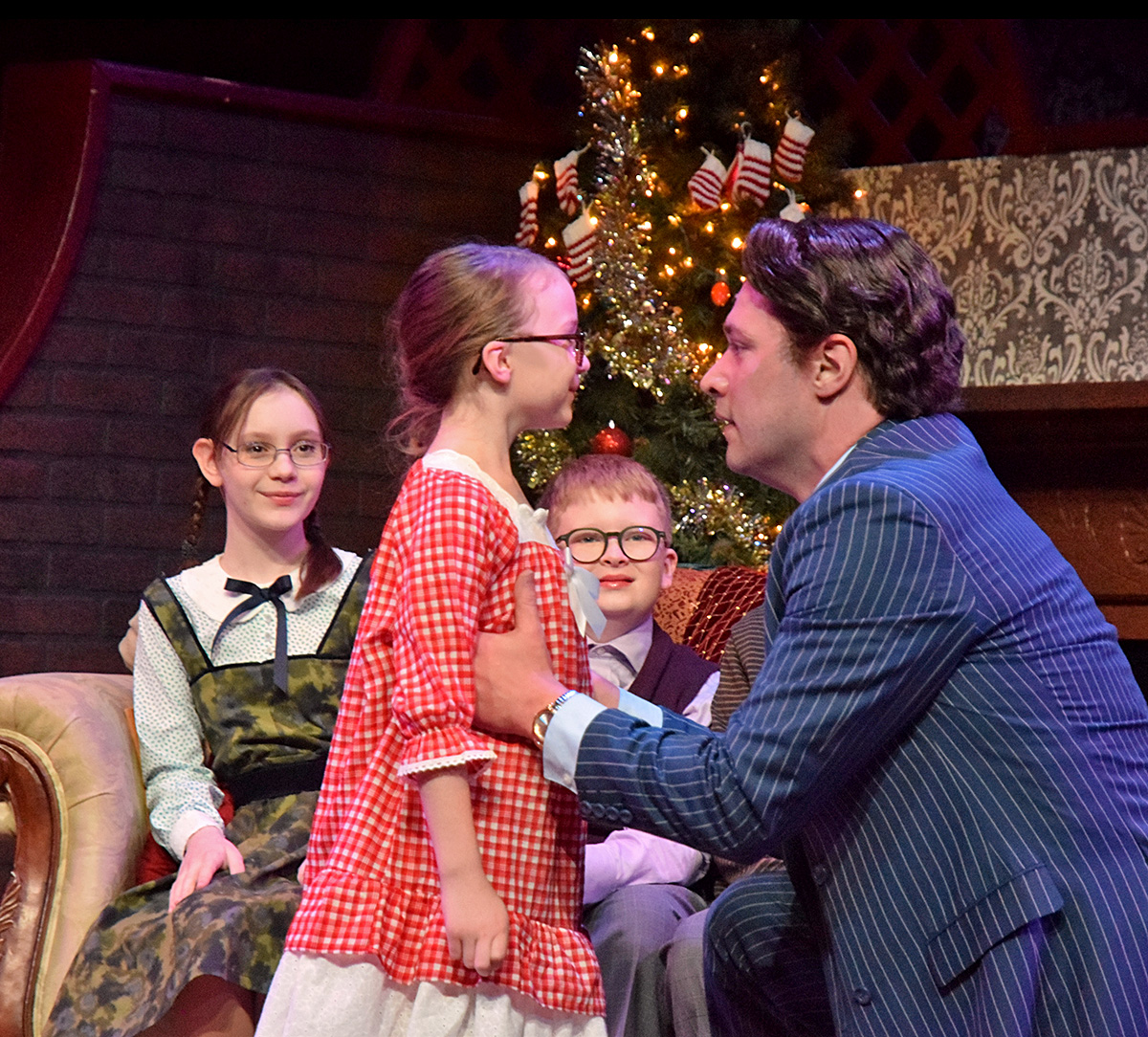 My friend Blair, who joined me for the night out while our youngest daughters giggled the night away at a sleepover, was kind enough not to laugh at me as I dabbed away tears during the finale. What can I say – I am a softie, and this story hits me in the heart. Picture it: the full cast including cute kids gathered around a Christmas tree singing "Auld Lang Syne," George realizing how "wonderful" his complicated life truly is, the bell ringing, and sweet Clarence finally earning his angel wings. All is right in Bedford Falls, and I'm feeling very grateful I held onto the napkin from my delicious holiday dinner because my eyes just – won't – stay – dry.
THE NOT-SO-GOOD NEWS
Beef & Boards' holiday shows are SO popular that tickets for both "It's a Wonderful Life" and "A Christmas Carol" were nearly sold out as of the opening weekend! This is a testament both to the theatre's reputation for offering high-quality entertainment, and to the Central Indiana community's enthusiasm for live theatre combined with a festive holiday meal. Beef and Boards is clearly entering into its 50th anniversary season as strong as ever.
THE BETTER NEWS
As my family and friends know, I'm both a theatre-lover and the kind of person who loves splurging on experiences more than things. (A purse, pair of shoes, or piece of home decor will just never thrill me the way a great memory will!) That means show tickets are at the top of my holiday wish list this year. (Hint, hint, Mr. Ben Lawless and kids…) If you know someone who fits this description, consider filling their stocking with theatre tickets or a gift certificate. (Beef & Boards management tells me tickets for their 2023 season shows are already selling well – including next year's Christmas season show, "White Christmas," so now's a good time to lock something in if you see a show that interests you.) The gift of live theatre comes with a bonus: you create a fun memory with your loved ones, and, you support the local Indianapolis arts community, helping keep it vibrant.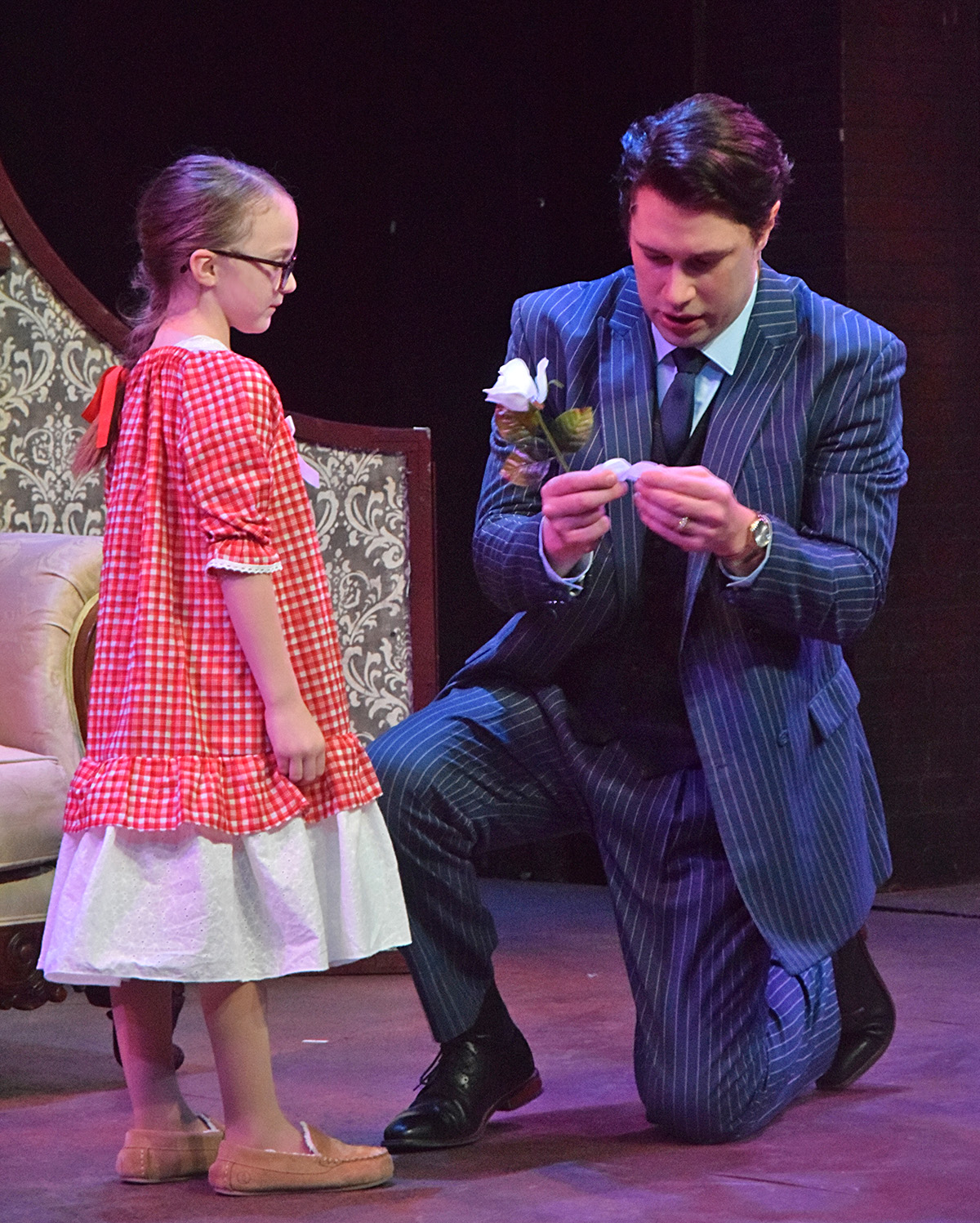 May you and your family enjoy magical experiences together this holiday season, and take time to remember what a wonderful life this is!
Beef & Boards Dinner Theatre is located at 9301 Michigan Road, Indianapolis, IN. Tickets for shows, gift certificates, and 2023 VIP Memberships are available by visiting beefandboards.com or by calling the box office at 317.872.9664 (closed Mondays). Tickets for main stage shows range from $52.50 to $79.50 and include a dinner buffet, full fruit and salad bar, coffee, tea and lemonade. Discounts are available for groups and children ages 3-15.
The 2023 season includes:
Clue (Dec. 28, 2022 – Feb. 5, 2023)

Footloose (Feb. 9 – March 26)

An American in Paris (March 31 – May 15)

Disney's Beauty and the Beast (May 18 – July 9)

Sophisticated Ladies (July 13 – Aug. 20)

Grumpy Old Men The Musical (Aug.24 – Oct. 1)

Joseph and the Amazing Technicolor Dreamcoat (Oct. 5 – Nov. 19)

White Christmas (Nov. 24 – Dec. 31)